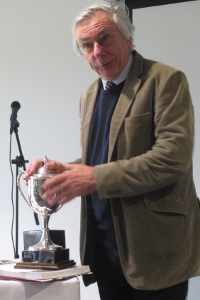 Stephen Chalke was named Statistician of the Year for 2015 for his contributions to the field of cricket history.
In introducing him, ACS Chairman John Bryant said that every academic History Department has its specialists in both ancient and modern history; having dabbled himself in the cricket of the 18th century – ancient history in the context of our game – he was delighted to salute one of the foremost historians of modern cricket.
Stephen began writing cricket books in 1997, with Runs in the Memory, on county cricket of the 1950s, and since then has greatly added to cricket's historical account, writing more than a dozen further books. His forte has been capturing the memories and achievements of stalwarts of the county game from the 1950s-1970s – not the Test superstars of their time, but players of the calibre of Bomber Wells, Tom Cartwright and Don Shepherd, fine cricketers all, and the type of player without whom the county game as we know it would not exist. Through the Yorkshire Oral History, Stephen interviewed players such as Brian Close and Bob Appleyard.
His work has not only resulted in the preservation of rich memories and historical detail that would otherwise have been lost for ever; it has also made him the first port of call for anyone carrying out work on the county cricket of these decades. Any modern cricket historian will have shelves full of books bearing Stephen's Fairfield imprint.
In 2015, he published Summer's Crown, a well-received and encyclopaedic history of the County Championship, which has been shortlisted for several national awards.