The ACS celebrates its half-century!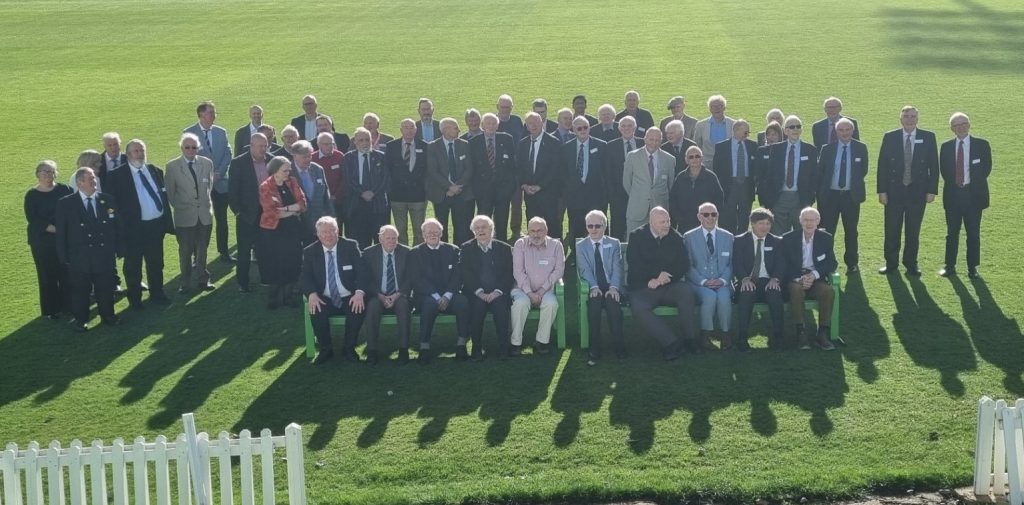 3 March 2023 marked the ACS's 50th anniversary. On that date in 1973, 30 cricket-lovers gathered at the Edgbaston ground in Birmingham and voted – by a majority of one! – to form a new 'Association of Cricket Statisticians' ('Historians' was added to the name 20 years later). Co-founders Robert Brooke and Dennis Lambert were elected our first Chairman and Secretary respectively. Of the original 30 founder members, seven – Philip Banham, Robert Brooke, David Gallagher, Peter Handford, Godfrey Prior, Norman Rogers and Martyn Taylor – are still members of the ACS today, and we thank and congratulate them on their loyalty and longevity.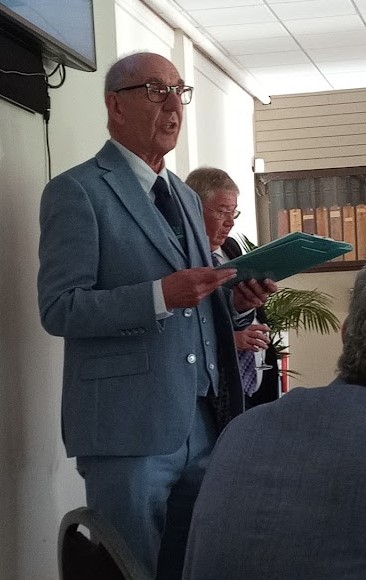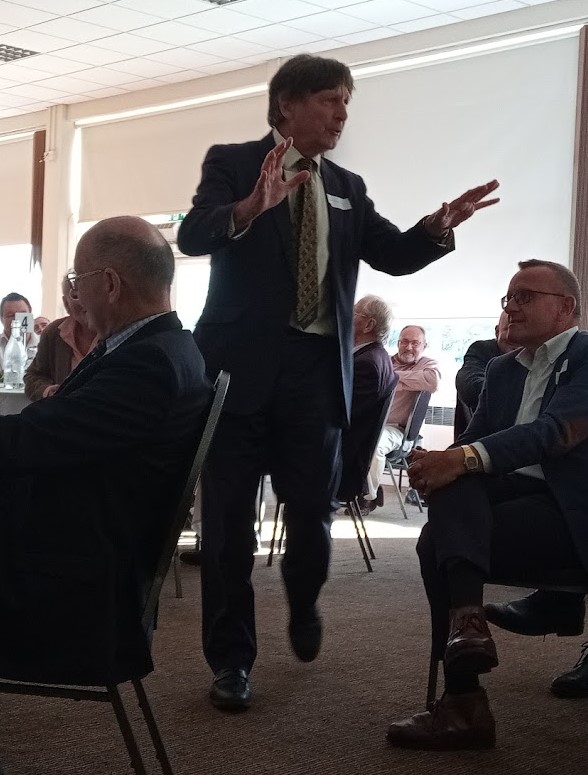 On 14 October, we celebrated our Golden Jubilee at Grace Road in Leicester – our first in-person meeting for four and a half years.

Nearly 60 members and guests, including Philip and Norman, enjoyed lunch in the Charles Palmer Suite, followed by an animated talk from former Sussex captain John Barclay.
A fuller report on the event, including toasts and tributes from leading members and a video recording of John Barclay's talk, is now available in the password-protected Members Area.
You can also watch a video interview with founder Robert Brooke on the ACS YouTube channel, and read more about the formation and earlier years of the ACS, and about the individuals whose hugely-valued efforts set us on our current path, in Twenty-One Years of the ACS, by our late President, Richard Streeton.
What is the ACS?
Who is the oldest man to hit a Test match century? What is the most expensive bowling analysis in first-class cricket? Does a match start with the toss, the call of 'Play' or the first delivery?
If you are intrigued by such conundrums, or if you're interested in the origins and history of the game, you'll find a group of like minds in the ACS. Founded in 1973, we are an international body represented in over 20 countries, and our members include most of the world's leading cricket statisticians and several of its most accomplished historians and biographers.
Our principal purpose is 'to promote and encourage research into the statistical and historical aspects of cricket throughout the world at all levels and to publish the findings'. Members of the ACS have significantly contributed to a wider understanding of the game and have led the way in uncovering many biographical details of first-class cricketers.
We have around 800 members all over the world. Membership is open to everyone – all you need to join us is to share our interest in the statistics and history of the game. The ACS aims to appeal to people with an interest in every form of the game. Although in the past, much of its work has focused on men's first-class cricket, more recently it has published material on women's cricket and taken the lead, for example, on developing statistics for the new Hundred competition.
To encourage research work on a broad range of topics which are likely to appeal to as wide an audience as possible, the ACS will:
continue to invite contributions to its activities from all its members;
actively encourage new projects related to forms of cricket which have received less attention in the past (including recreational cricket, women's cricket, disabled cricket etc);
seek to take the lead in the collection of statistics for these and other under-researched aspects of the game;
selectively offer financial support to worthwhile projects which are aligned with the ACS's objectives; and
make regular use of different social media platforms to engage with a more diverse audience.
Members receive our quarterly journal, The Cricket Statistician, and an annual voucher, currently worth £8, towards the cost of our printed publications. They are entitled to a 33% discount on subscriptions to the Cricket Archive website and to the CSW cricket database. Members can also join our email forum to share information, ask questions and chat about topical cricketing issues. Details about the email forum and discounts are available in the Members Area; any member who does not have the password for this page should contact webmaster@acscricket.com.
We publish a range of titles which are available in the ACS Online Shop.
The website includes several valuable research tools open to all visitors:
The ACS Online Cricket Records Section, which is updated on a daily basis and covers first-class cricket, Test cricket, List A, Twenty20 and women's international cricket, with some minor cricket records too.
The archive of The Cricket Statistician up to 2020 in digitised form; copies of more recent issues are still on sale in the shop.
Our Research Section which contains further resources, including the first two parts of a massive A to Z of Kent Cricketers, compiled by Derek Carlaw, currently covering all Kent players who appeared between 1806 and 1939, and County Cricket: Sundry Extras, biographical details compiled by David Jeater on over a thousand county cricketers with achievements in areas of public life away from cricket.
Our Collaborative Research Projects – if you'd like to get involved in our research, there's a list in the Research Section of collaborative projects we have set up since March 2020 on topics such as women's cricket, league cricket, national competitions, county committees, scorebooks, cricketers who died in war, and more; do get in touch if you'd like to join in (contact details on the Collaborative Research Projects page).
Ask the ACS, a collection of statistical questions and answers on specialised one-off matters.
You can also follow the Association via Twitter, at @ACScricket; on Instagram, at acscricket; on Facebook, at Association of Cricket Statisticians & Historians; on YouTube, at ACScricket; on Mastodon, at @ACScricket@mstdn.social; and on Bluesky at @ACScricket.bsky.social.
If you are looking for an answer to any question about cricket, seeking clarification about a particular record or feat, or searching for information on a team or a particular player, please send an email to secretary@acscricket.com and the Secretary will point you in the right direction.
Book auction
Thanks to the many bidders who took part in the latest online auction of the books and memorabilia of the late Tony Webb, which has now closed – we will be in touch with you shortly.
Diversity and Equality Statement
The ACS has issued a Diversity and Equality Statement setting out clearly its objective of seeking to appeal to people with an interest in every form of the game.
It recognises that, although in the past much of its work has focused on men's first-class cricket, more recently it has published material on women's cricket and taken the lead, for example, on developing statistics for the new Hundred competition.
The statement sets out a number of ways in which the ACS will seek to encourage research work on a broad range of topics, designed to appeal to as wide an audience as possible. These ways include continuing to invite contributions to its activities from all members, actively encouraging new projects related to forms of cricket that have received less attention in the past, and seeking to lead on the collection of statistics for under-researched aspects of the game.
Introducing the Members' Marketplace
The ACS has launched a Members' Marketplace to facilitate members selling cricket-related printed material (books, magazines, scorebooks, scorecards, etc) to each other. The marketplace will operate on a similar basis to small ads, so any transaction will be between the buyer and the seller; the ACS will not act as an agent, will take no fee, and will not guarantee the description or condition of any items. Instructions for using the marketplace are on the webpage.
We have now added an Items Wanted page where members may request items they are looking for, so do look if you think you might be able to help.
Latest publications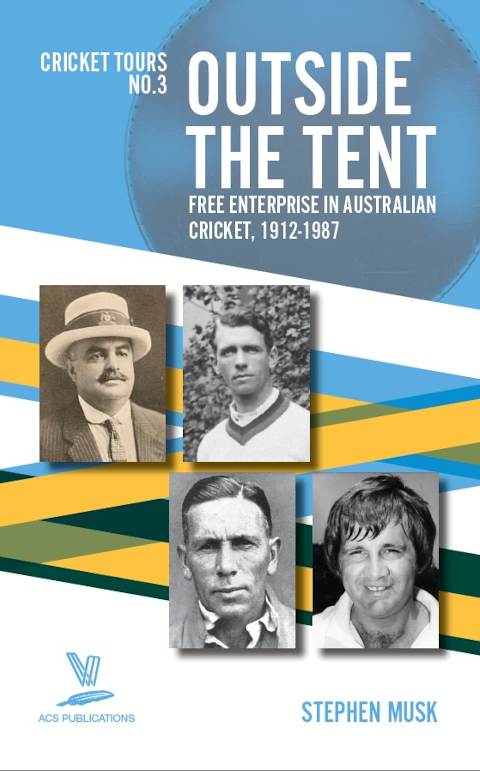 In our latest publication, Outside the Tent, Stephen Musk analyses how Australian cricketers of the 20th century rebelled against the yoke of the Board of Control by taking part in unofficial international tours, or by forsaking Australia to take up careers as professionals in England – and draws attention to some unjustly forgotten tours to North America, India and South Africa, in the third book in our series on Cricket Tours.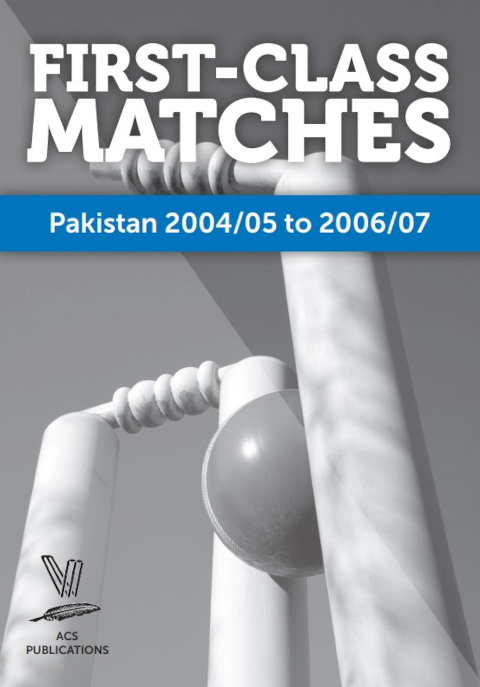 The eleventh volume of our 'Hard to Get' series, providing scorecards of first-class matches difficult to obtain in print, covers three seasons in Pakistan 2004/05 to 2006/07, during which 245 matches were played.
Also in November, we have published the latest issue of The Cricket Statistician, edited by Jonathan Northall. This is sent to members in their quarterly mailings, but extra copies and previous issues are available in the shop.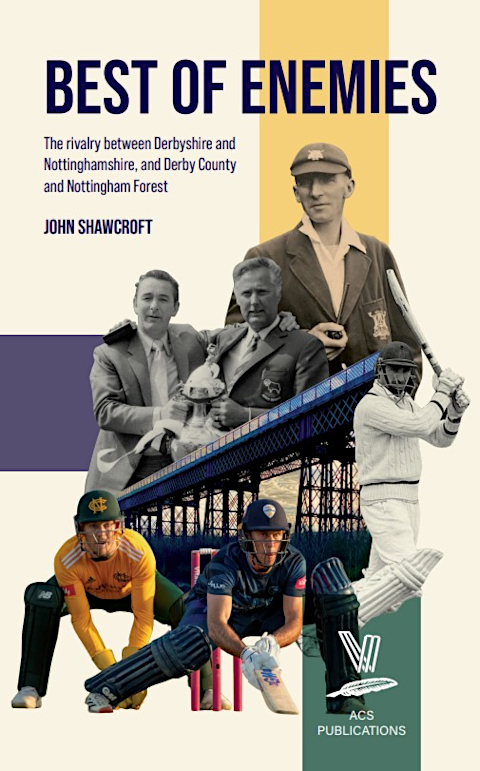 In Best of Enemies, John Shawcroft explores the keen cricketing rivalry between Derbyshire and Nottinghamshire – whose contests in the 1930s, when both vied for the County Championship, sometimes eclipsed even the Roses matches – as well as that of their football cousins, Derby County and Nottingham Forest.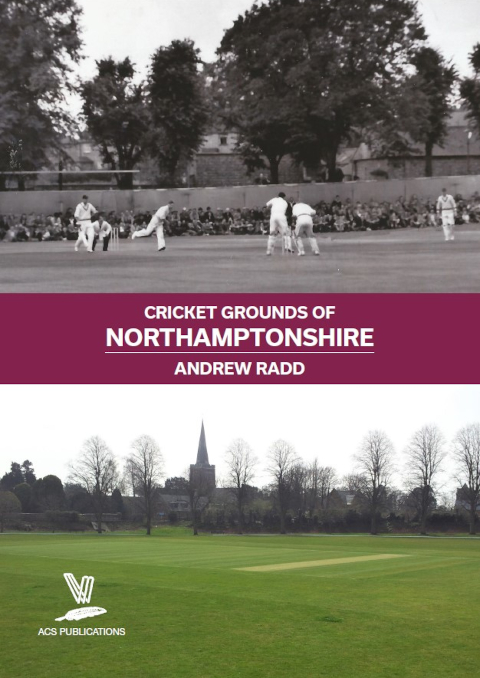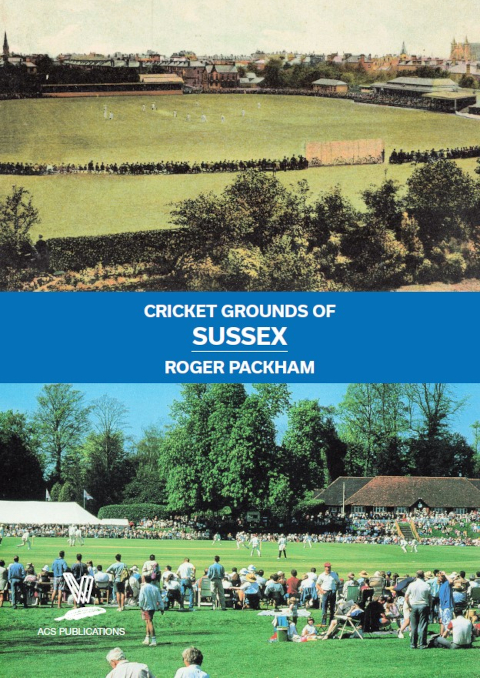 We are delighted to have completed the ACS series covering grounds in all 18 first-class counties with the long-awaited publication of Cricket Grounds of Sussex (now sold out) and of Cricket Grounds of Northamptonshire. Written by local expert Andrew Radd, this investigates the history of all Northamptonshire's first-class grounds – and some 'home' grounds outside the county boundaries as well.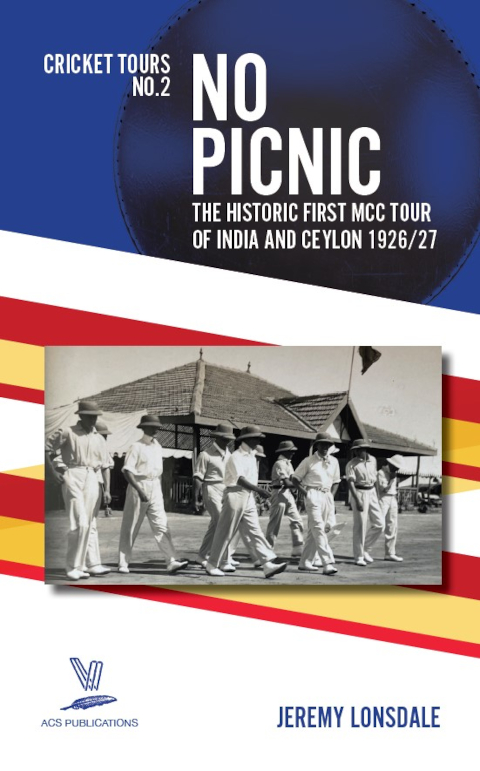 In the second book in our new series on Cricket Tours, No Picnic: The historic first MCC tour of India and Ceylon 1926/27, Jeremy Lonsdale tells the story of a naively-planned and gruelling tour led by Arthur Gilligan. (This book is no longer available from the shop but can be ordered directly from the author.)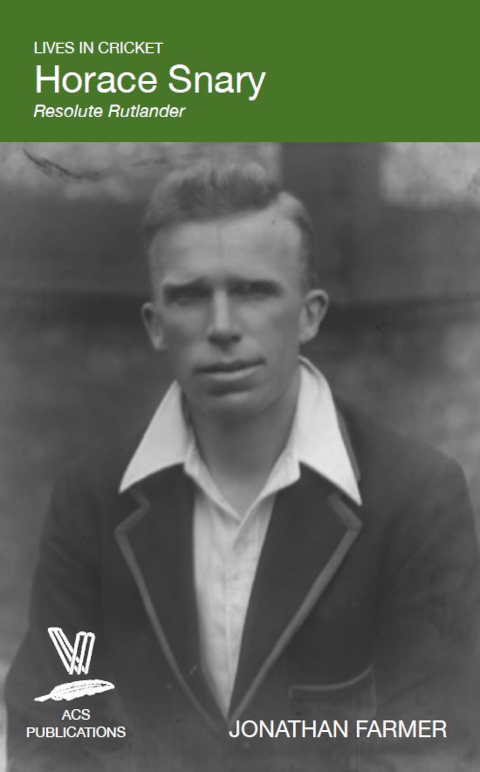 Horace Snary is the latest of our Lives in Cricket. Jonathan Farmer explains how Snary overcame the damage to his lungs from severe gassing during the First World War to form an important part of Leicestershire's bowling attack.
The ACS International Cricket Year Book 2023 provides detailed information about every current player worldwide, listing all men who appeared in any First-Class, List A Limited-Overs or Twenty20 match in the 2021/22 and 2022 seasons, as well as women taking part in international matches. Our annual publications also include the Second Eleven Annual 2023, providing potted scores for the 2022 season and biographical details on the players, and the Overseas First-Class Annual 2022, giving full scores of all 319 first-class matches played outside England and Wales in the 2021/22 and 2022 seasons.
A Game Emerging: Yorkshire cricket before the coming of the All England Eleven extends Jeremy Lonsdale's acclaimed series on Yorkshire cricket back to the 1750s, examining how cricket spread in Yorkshire before the arrival of William Clarke's All England Eleven in 1846. A Game Emerging is available in a discounted package with A Game Taken Seriously, which covers the second half of the 19th century. You can listen to an interview with Jeremy on YouTube.
Our sales offers include discounts on All Ten (the Ultimate Bowling Feat), Women at the Wicket, a history of women's cricket in interwar England, Cricketscapes, examining how the counties came into being, A Tall Story, the life of Nigel Plews, Cricket's Four Epochs, Eric Midwinter's examination of how cricket reflects society, The Summer Field, a thoughtful history of English cricket since 1840, and the biography of Yorkshire clergyman Edmund Carter.
All books published in the last year which remain in stock appear under Latest Publications.
Many earlier publications are available in the online shop, including extra copies of the ACS Journal, The Cricket Statistician.
If you need to get in touch with ACS Sales, their contact details are here.
Tony Webb, Roger Mann and Jack Chapman
Tony Webb, who masterminded the ACS's Minor Counties Match Scores project from 1999 to 2011, died on 22 February. Julian Lawton Smith, who succeeded him as editor on the project, pays tribute to a phenomenal researcher.
We have also updated the obituaries page with tributes to Roger Mann, whose superb photo collection helped to illustrate many ACS publications, and Jack Chapman, the historian of Durham club cricket, who both died last year; thanks to Roy Telfer, Peter Carroll and Stephen Musk.
ACS Statistics Logistics sub-group
The ACS has created a Statistics Logistics sub-group drawn from the ACS committee, members of the Association, and members of the scoring and umpiring community, to discuss and advise on the recording or calculation of cricket statistics.
The group's answers to an initial batch of 17 questions, and explanations of how they reached their decisions, are available in a PDF document here.
The group has also discussed how to treat statistics for the ECB's new 100-ball competition, after consultation with ACS members, ECB officials, Wisden and Cricket Archive. Their advice on how to handle statistics for The Hundred is available in pdf form here.

The '2nd not 1st' project
The ACS has started work on a series of pen portraits of players who appeared for county 2nd XIs but never appeared in 1st XI cricket.
We are placing the initial batch of entries on Glamorgan players online, and you can find them via this page. If you have additional information on these players or others not yet included, or you would like to help compile a listing for another county, please email secretary@acscricket.com.
Can you help with our research projects?
Stuck at home, unable to visit a cricket ground, and looking for something to do?
The ACS has launched a series of collaborative research projects, and we need our members' help.
The internet provides access to a huge number of local newspapers, without having to go to the library, so you can get involved even if you're self-isolating. Among the subjects we want to work on are women's cricket (compiling a definitive list of major domestic matches), league cricket, national competitions, research into county committees, scorebooks (where are historic scorebooks kept?) and several more. We're open to further suggestions!
For more details on what we're planning and how you can help, read Peter Griffiths's proposals which include contact details for the project co-ordinators. Links to the first results are on our Research page.
Join the ACS
If you are not yet a member of the Association, we very much hope that you will consider joining. Click on Join the ACS and follow the links and instructions there.
We have recently added the option of digital membership, for those who prefer to receive the quarterly mailing in electronic form.
Once you have joined, you will have access to the Members Area and can subscribe to the Members' Email Forum. Members can obtain the password for the Members Area by sending an email to webmaster@acscricket.com.