2020 AGM report
The 47th Annual General Meeting of the ACS, postponed from 21 March, took place on Saturday 10 October. It was held as a 'virtual' meeting, attended by the Association's President (David Kendix), the members of the General Committee, and two observers from among the membership (Jenny Heald and Chris O'Brien).
The six motions on which members had been asked for their votes were all carried by an overwhelming majority of the 97 members who had sent in valid voting papers.
A recording was made of the meeting, and this can now be seen in the Members Area of the website, for which you will need your password.
The minutes of the meeting will appear in a future edition of The Cricket Statistician.
What is the ACS?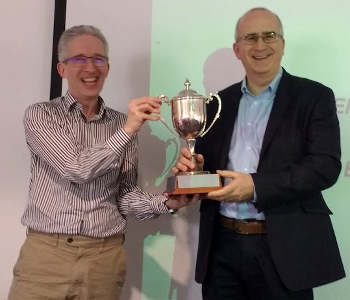 Who is the oldest man to hit a Test match century? What is the most expensive bowling analysis in first-class cricket? Does a match start with the toss, the call of 'Play' or the first delivery?
If you are intrigued by such conundrums, or if you're interested in the origins and history of the game, you'll find a group of like minds in the ACS. Founded in 1973, we are an international body represented in over 20 countries, and our members include most of the world's leading cricket statisticians and several of its most accomplished historians and biographers.
Our principal purpose is 'to promote and encourage research into the statistical and historical aspects of cricket throughout the world at all levels and to publish the findings'. Members of the ACS have significantly contributed to a wider understanding of the game and have led the way in uncovering many biographical details of first-class cricketers.
We have around a thousand members all over the world. Membership is open to everyone – all you need to join us is to share our interest in the statistics and history of the game.
Members receive our quarterly journal, The Cricket Statistician, and an annual voucher towards the cost of our publications. They are entitled to a 33% discount on subscriptions to the Cricket Archive website and to the CSW cricket database. Members can also join our email forum to share information, ask questions and chat about topical cricketing issues. Details about the email forum and discounts are available in the Members Area; any member who does not have the password for this page should contact webmaster@acscricket.com.
We publish a range of titles which are available in the ACS Online Shop.
The website includes several valuable research tools open to all visitors:
You can also follow the Association via Twitter, at @ACScricket.
If you are looking for an answer to any question about cricket, seeking clarification about a particular record or feat, or searching for information on a team or a particular player, please send an email to secretary@acscricket.com and the Secretary will point you in the right direction.
Nigel Plews book launch, Saturday 7 November
A Tall Story is the latest book from the ACS Cricket Witness series. It is based on the life and times of Nigel Plews, the Nottingham policeman who became one of world cricket's most respected umpires, despite never having played at professional level. After retiring from the Fraud Squad, Nigel stood in first-class cricket from 1981 until 1999, officiating in 11 Tests, 16 one-day internationals and many major one-day games and cup finals.
This book, written in conjunction with Nigel's family, draws on the diaries and notebooks which he kept assiduously throughout his distinguished career, starting with his days umpiring in league cricket in the East Midlands. Tragically, Nigel was diagnosed with inoperable kidney cancer in 2007; during the final years of his life, with the help of his wife and children, he collated his memoirs, the basis of this fascinating book.
A virtual launch (via ZOOM) of A Tall Story will take place on Saturday 7 November, starting at 10.00. A number of speakers will be making short presentations, including the author, Andrew Hignell, members of Nigel's family and former colleagues from Nottingham Police, as well as Neil Bainton, another man who has progressed from the recreational game to the first-class umpires' list, and who has written the foreword.
If you would like to attend the virtual launch, please send an email to secretary@acscricket.com by 5 November, giving your email contact details.
Can you help with our new research projects?
Stuck at home, unable to visit a cricket ground, and looking for something to do?
The ACS has launched a new series of collaborative research projects, and we need our members' help.
The internet provides access to a huge number of local newspapers, without having to go to the library, so you can get involved even if you're self-isolating. Among the subjects we want to work on are women's cricket (compiling a definitive list of major domestic matches), league cricket, national competitions, research into county committees, scorebooks (where are historic scorebooks kept?) and several more. We're open to further suggestions!
For more details on what we're planning and how you can help, read Peter Griffiths's proposals which include contact details for the project co-ordinators. Links to the first results are on our Research page.
Kent County Cricketers A to Z
Following the online publication last year of Part One of Derek Carlaw's Kent County Cricketers A to Z, we are delighted that Part Two is also now available on the ACS website.
This second volume relates to the 92 players who made their debuts for Kent between 1919 and 1939. It follows the same format, a series of biographies written by Derek Carlaw, plus statistics collated by John Winnifrith. A contents page with clickable links takes the reader directly to each player.
At the same time, Part One, which covers the 524 cricketers who played from 1806 to 1914, has been revised, with updated biographies, first-class statistics, and the addition of a contents page with links to each entry.
Our thanks and congratulations once again to Derek and John for their outstanding research. If you have any additional information about any of these players, or amendments which you would like to share with Derek and John, please send an email to secretary@acscricket.com
We look forward in due course to the publication of subsequent volumes.
1945: The Victory Tests and England v The Dominions
To commemorate the 75th anniversary of the return of first-class cricket to England at the end of the Second World War, ACS member Barry Valentine has compiled ball-by-ball records of England's five Victory Tests against the Australian Services and England v The Dominions, all played between May and August 1945. These are available in pdf form via our Research page.
Latest Publications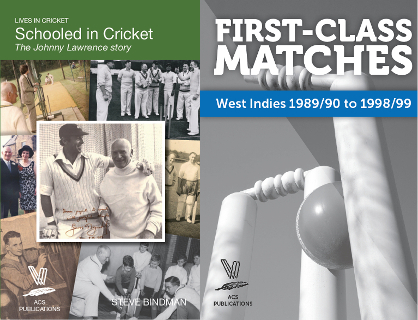 Our latest publications are now available in the ACS Online Shop. The latest in our Lives in Cricket series, Schooled in Cricket: The Johnny Lawrence story, is Steve Bindman's biography of a Yorkshireman who played for Somerset but was better known as a coach; Geoffrey Boycott's foreword describes him as 'a personal friend, coach and private tutor'. First-Class Matches: West Indies 1989/90 to 1998/99 is the seventh volume in our series of 'Hard to Get' scorecards and includes 246 first-class matches played in the West Indies in the 1990s.
Earlier this year, we published Andrew Hignell's Cricketscapes, which examines how the counties developed in a variety of venues, and our regular spring annuals, the ACS International Cricket Year Book and the Second Eleven Annual. Mark Rowe's Tour de Farce: Anti-apartheid protest and South Africa's cancelled 1970 cricket tour of England has sold out.
Many earlier publications are available in the online shop, including A Game Sustained: The impact of the First World War on cricket in Yorkshire 1914-20, Jeremy Lonsdale's sequel to the well-received A Game Taken Seriously, the ACS Overseas First-Class Annual 2019, and extra copies of the ACS Journal, The Cricket Statistician.
If you need to get in touch with ACS Sales, their contact details are here.
Join the ACS
If you are not yet a member of the Association, we very much hope that you will consider joining. Click on Join the ACS and follow the links and instructions there.
Once you have joined, you will have access to the Members Area and can subscribe to the Members' Email Forum. Members can obtain the password for the Members Area by sending an email to webmaster@acscricket.com.