AGM – Saturday 19 March 2022
The committee are starting to plan our next AGM on Saturday 19 March 2022. We hope the meeting, plus the annual lunch, can take place once again at the County Ground in Derby, with an informal get-together the night before in the Travelodge Hotel.
We are in discussions with Derbyshire CCC regarding their conference facilities and infrastructure, especially the possibility of holding the AGM as a hybrid meeting – i.e. both in person and via remote access for those unable to travel to Derby. Further details will be provided when available.
What is the ACS?
Who is the oldest man to hit a Test match century? What is the most expensive bowling analysis in first-class cricket? Does a match start with the toss, the call of 'Play' or the first delivery?
If you are intrigued by such conundrums, or if you're interested in the origins and history of the game, you'll find a group of like minds in the ACS. Founded in 1973, we are an international body represented in over 20 countries, and our members include most of the world's leading cricket statisticians and several of its most accomplished historians and biographers.
Our principal purpose is 'to promote and encourage research into the statistical and historical aspects of cricket throughout the world at all levels and to publish the findings'. Members of the ACS have significantly contributed to a wider understanding of the game and have led the way in uncovering many biographical details of first-class cricketers.
We have around 850 members all over the world. Membership is open to everyone – all you need to join us is to share our interest in the statistics and history of the game.
Members receive our quarterly journal, The Cricket Statistician, and an annual voucher, currently worth £8, towards the cost of our printed publications. They are entitled to a 33% discount on subscriptions to the Cricket Archive website and to the CSW cricket database. Members can also join our email forum to share information, ask questions and chat about topical cricketing issues. Details about the email forum and discounts are available in the Members Area; any member who does not have the password for this page should contact webmaster@acscricket.com.
We publish a range of titles which are available in the ACS Online Shop.
The website includes several valuable research tools open to all visitors:
You can also follow the Association via Twitter, at @ACScricket.
If you are looking for an answer to any question about cricket, seeking clarification about a particular record or feat, or searching for information on a team or a particular player, please send an email to secretary@acscricket.com and the Secretary will point you in the right direction.
Latest publications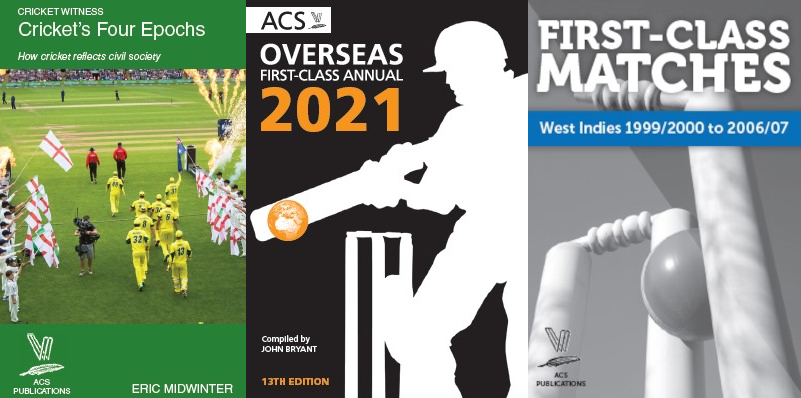 Our latest publication in the Cricket Witness series is Cricket's Four Epochs: How cricket reflects civil society, Eric Midwinter's study of how the style and timbre of cricket change along with the prevailing political economy and culture. It is also available in three discounted packages, along with another Eric Midwinter books, Class Peace, with Andrew Hignell's Cricketscapes, or with both.
First-Class Matches: West Indies 1999/2000 to 2006/07 completes our coverage of previously 'Hard to Get' first-class scores from the West Indies, and is also available in a discounted package with an earlier volume.
The Overseas First-Class Annual 2021, covering the pandemic-disrupted season of 2020-21, is now in stock.
Among our other recent publications is George Macaulay: The Road to Sullom Voe, Giles Wilcock's account of a complex and difficult man who played a key role in the great Yorkshire side of the 1920s but came to a tragic end during the Second World War. George Macaulay is also available in a Yorkshire Lives in Cricket package, along with Brian Sellers.
Among the other books in the ACS Online Shop, Bill Bestwick: Rough Diamond, the biography of the controversial Derbyshire seamer who was acquitted of manslaughter in 1907, has proved highly popular and extra copies have been printed to meet demand.
Fly at a higher game: The Story of TAL Whittington and the elevation of Glamorgan CCC into the County Championship tells the story of Glamorgan's first Championship title in 1948.
Many earlier publications are available in the online shop, including extra copies of the ACS Journal, The Cricket Statistician.
If you need to get in touch with ACS Sales, their contact details are here.
25 September: EGM and tribute to the late Peter Wynne-Thomas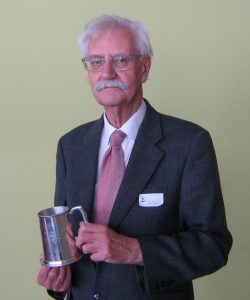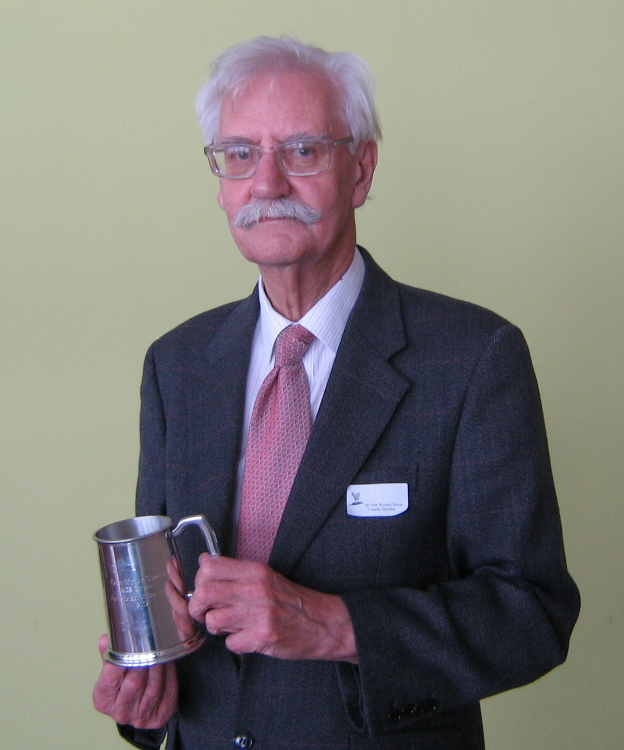 An EGM held via Zoom on Saturday 25 September approved a revised version of the ACS Rules. The EGM minutes and a recording of the meeting may be found in the Members Area (password required).
It was followed by an online event celebrating the life of Peter Wynne-Thomas, our esteemed former Honorary Secretary, who died in July after a short illness. Representatives of Nottinghamshire CCC as well as ACS members shared their memories of Peter and paid tribute to his work. This event can be viewed in an MP4 file (lasting just over an hour) here.
ACS Statistics Logistics sub-group
The ACS has created a Statistics Logistics sub-group drawn from the ACS committee, members of the Association, and members of the scoring and umpiring community, to discuss and advise on the recording or calculation of cricket statistics.
The group's answers to an initial batch of 17 questions, and explanations of how they reached their decisions, are available in a PDF document here.
The group has also discussed how to treat statistics for the ECB's new 100-ball competition, after consultation with ACS members, ECB officials, Wisden and Cricket Archive. Their advice on how to handle statistics for The Hundred is available in pdf form here.

The '2nd not 1st' project
The ACS has started work on a series of pen portraits of players who appeared for county 2nd XIs but never appeared in 1st XI cricket.
We are placing the initial batch of entries on Glamorgan players online, and you can find them via this page. If you have additional information on these players or others not yet included, or you would like to help compile a listing for another county, please email secretary@acscricket.com.
Can you help with our research projects?
Stuck at home, unable to visit a cricket ground, and looking for something to do?
The ACS has launched a series of collaborative research projects, and we need our members' help.
The internet provides access to a huge number of local newspapers, without having to go to the library, so you can get involved even if you're self-isolating. Among the subjects we want to work on are women's cricket (compiling a definitive list of major domestic matches), league cricket, national competitions, research into county committees, scorebooks (where are historic scorebooks kept?) and several more. We're open to further suggestions!
For more details on what we're planning and how you can help, read Peter Griffiths's proposals which include contact details for the project co-ordinators. Links to the first results are on our Research page.
Join the ACS
If you are not yet a member of the Association, we very much hope that you will consider joining. Click on Join the ACS and follow the links and instructions there.
We have recently added the option of digital membership, for those who prefer to receive the quarterly mailing in electronic form.
Once you have joined, you will have access to the Members Area and can subscribe to the Members' Email Forum. Members can obtain the password for the Members Area by sending an email to webmaster@acscricket.com.