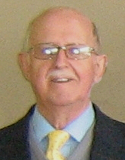 Dennis Lambert, one of the Association's Founder Members, died on 14 November 2016. He was 82.
In October 1972, Dennis Lambert and Robert Brooke placed an advert in The Cricketer, asking anyone interested in forming a 'Cricket Statisticians Association' to get in touch. This led to a meeting at Edgbaston in April 1973, which agreed by a single vote to form a new body, independent of the Cricket Society. Dennis became the ACS's first Secretary and was Chairman from 1979 to 1981.
An accountant, Dennis was later the official statistician of Leicestershire CCC, and wrote the county's history for the Christopher Helm series. He took an interest in all ACS projects, especially overseas cricket and the Minor Counties. Since 2007, he had served on the Grants Subcommittee, vetting applications from members for research grants.
Dennis and Robert were named the ACS's first Honorary Life Members in 1987.