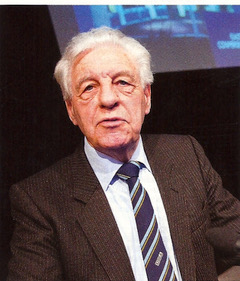 According to the well-known Christmas carol, Midwinter is bleak, anodyne and tundra-like, a monochrome environment where snow has fallen, snow on snow. In contrast, the writings of the Association's very own Midwinter are the polar opposite – full of warmth, colour and interest.
It is towards Eric Midwinter that I am directing these words in a citation for the Association's prestigious Brooke-Lambert Trophy, awarded this year to the doyen of cricket historians and statisticians, a man who over the past couple of years has authored two outstanding books in the Cricket Witness series.
Class Peace and His Captain's hand on his shoulder smote are outstanding examples of the craft of one of the most prolific wordsmiths the Association has known. As statisticians, we have the likes of Ashley-Cooper, Frindall, Wynne-Thomas et al. As historians, we have the writings of a man who is perhaps the polymath's supreme polymath. Someone who is at complete ease whether it is writing about the round ball or red ball at Old Trafford, the state of the country's education system, local history, law and order in Liverpool, public transport in and around the London conurbation, the rights of pensioners, conjuring and comedy. The list goes on and on. I warmly recommend Jeremy Hardie's book, Variety is the Spice of Life: The Worlds of Eric Midwinter, if anyone wants to know more about the diverse range of interests held by this year's recipient of the Brooke-Lambert Trophy.
Eric Midwinter OBE was born in Sale, Cheshire in 1932. During his distinguished career he has been, in no particular order, a social historian and policy-maker, a professor of Education at Exeter University, and the co-founder of the University of the Third Age. From 1980 to 1991, Eric was Director of the Centre for Policy on Ageing, besides being Head of the Public Affairs Unit at the National Consumers Council. From 1977 to 1996, he was Chair of the London Regional Passengers Committee, as well as Chair of the Health and Social Welfare Board of the Open University.
Eric has written over 50 books on education, social reform, consumer advocacy, British comedy, literary history, football and cricket. For six years, he was Chairman of the judges for The Cricket Society/MCC Book of the Year. As far as our own Association is concerned, he succeeded Richard Streeton in 1997 as our President – a position he filled with typical gravitas and erudition until 2004.
To this outstanding list of achievements, I am delighted to add the words 'recipient of the Brooke-Lambert Trophy'. In closing, I would like to turn to the recent words of Bernard Whimpress in the Journal of the Australian Society for Sports History. In reviewing Eric's latest two works for the ACS, Bernard wrote:
'Eric Midwinter is the most distinguished social historian to turn his hand to sports history… One of the pleasures of reading Midwinter on sport is to discover so much from other spheres. His effortless employment of social and literary scholarship, translated with warm humour. Class Peace and His Captain's Hand are a brilliant addition to his oeuvre and a sparkling contribution to cricket history and literature.'
Dr Andrew Hignell
Hon. Secretary – ACS

In response, Eric Midwinter said:
A compound of surprise and delight suffused me as I excitedly read that I had been awarded cricket scholarship's Oscar. I said to my wife 'Did you ever think in your wildest dreams that I would be so honoured?' She replied, somewhat coolly, 'I'm afraid you don't appear in my wildest dreams!'
Suitably humbled domestically, it also occurred to me that I have always seen myself as a social historian with an interest in cricket rather than a cricket historian, knowing full well that, in any gathering of ACS members, I would be the least knowledgeable about cricket per se. In any such assembly I would be like a rather mangy lion flung into a den of sagacious Daniels.
However, I do believe that no one could outdo me in my firm belief that cricket is so important that its place in the history of Britain, and other regions as well, is paramount and salient, deserving of genuine recognition in that regard. All my work in respect of cricket has been motivated by that concept.
I am very conscious of the significance of this award, decided upon by colleagues and fellow-tillers in the cricket field of study, and named in honour of two esteemed and much respected cricket researchers.
Thank you.