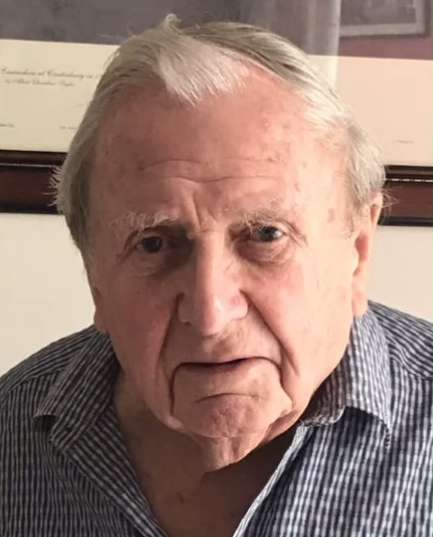 As a nation during the long Covid months of 2020, we were buoyed and heartened by the superb efforts of Captain Sir Tom Moore who, at the age of 100, raised millions of pounds for the NHS. Following Captain Tom's sad death during February 2021, many heart-felt tributes were made to his outstanding fund-raising efforts with one of them saying 'age is no barrier to doing good and making a contribution to the benefit of everyone'.
Here in the ACS we can echo these sentiments as we continue to honour the outstanding efforts of our members. At the 2020 AGM we paid tribute to the works of an octogenarian, Eric Midwinter in his 89th year, and here at the 2021 AGM we can raise a virtual glass to a nonagenarian, as Derek Carlaw, a man in his 92nd year, has been the unanimous choice of the committee of the Association as the recipient of the Brooke-Lambert Trophy.
Derek has been following cricket since 1939 and was at Lord's for all three days of the match between England and the Dominions at Lord's in 1945. From his home in Metropolitan Kent, he had always been a supporter of county cricket but he was able to follow Kent more seriously after moving to Canterbury during 1978. His work as a freelance copy writer for technical journals also allowed him to carefully organize his diary in order to be present on a regular basis at the St Lawrence ground as well as the other venues which the county used for their Championship and List A matches.
As a young man, Derek played cricket to a decent standard and appeared during the 1950s for some of the wandering clubs in the area. He was delighted to have also been coached at Alf Gover's Cricket School, and, in more recent times, he has been able to put his experiences of club cricket to good use and write with great with confidence about the techniques and skills of players, not to mention reading the state of pitches when describing their performances in certain matches.
Added to this practical know-how is Derek's considerable breadth of general knowledge, allowing him to place individual players into their correct historical context as well as coming up with some remarkable gems. For example, who else would have known that the late Victorian batsman Haldane Stewart, who played with distinction for Kent and the MCC, was the father of Johnnie Walker, the television producer who created the Top of the Pops programme on BBC TV in January 1964.
Before embarking on the Kent County Cricketers A to Z project, Derek's extensive knowledge of Kent cricket history had been chiefly confined to the county's annual. His name appears with others on four publications, including the last official Kent history, although, quite perversely, the only previous publication of which he was the sole author was the 100 Greats series on Derbyshire.
Derek's main historical Kent interest lies in the Victorian era from 1870 until 1901 and, as many ACS members are aware his favourite cricketer, is 'Nutty' Martin, the Kent opening bowler who took 1,317 wickets with his variety of left-arm deliveries.
I'm very grateful to Howard Milton for many of these details about Derek's contribution to recording the history and achievements of Kent players, as well as Derek's painstaking work for the Kent Cricket Heritage Trust. I am also very grateful to Howard for the following words about Derek's outstanding work on the Kent A to Z project. I quote –
'Derek was into his late 70s when he began the Kent Who's Who, openly assuming he would get so far before he was incapable to continue or actually died. He is now 91 and has been through it compiling and revising it no less than three times. To those who know him, we strongly believe that, had he not got the interest, he would have died long ago. His brain is as active as ever, even though, on occasions, he will say that he wished he had never started it.'
Derek – we as an Association are so pleased that you started this monumental piece of research and we are so delighted that you have seen it through to the online publication of the first two sections, the first from 1806 until 1914, and the second covering the period from 1919 until 1939. We also hope that you will be able to meet your target of seeing the rest of the project through to the end of the 20th century. We also acknowledge the great assistance you have received from John Winnifrith who has helped to compile the statistics for these first two volumes and who, I know, is also assisting you with the next volume covering the post-War period.
Your attention to detail and desire to leave no stone unturned in ascertaining information about the most obscure of players, especially those one-match wonders, has been commendable and we hope that your Who's Who will be a lasting legacy of your research efforts as well as being a superb model for other much younger researchers to follow with the remaining first-class counties.
Ladies and Gentlemen, I ask you to put your hands together to congratulate Derek Carlaw as the recipient of the Brooke-Lambert Trophy.
Dr Andrew Hignell
Hon. Secretary – ACS

Derek was unable to be present at the meeting but sent the following message of thanks:
I must apologise first of all for not being present, even via Zoom. I'm afraid that, as the years pass, it is often hearing that succumbs first, and some aspects of modern means of communication can sometimes be a trial. At my age I rarely find myself surprised by anything, but the award of the Brooke-Lambert Trophy could not have been more unexpected. I am, or have been, many things, but a statistician is certainly not one of them. Any of the ancient and fast-dwindling group of people who know me will, I'm sure, tell you so.
To be frank, I feel a bit of a fraud, not least because I have taken such an unconscionably long time about the whole business. Even with Howard Milton, David Robertson and John Winnifrith contributing some of the entries, I have still not quite finished Part Three (1946-1999). As for statistics, it is on Howard Milton, and of course the indispensable Cricket Archive, that I have, for the most part, relied.
Deserved or not, I am deeply grateful to the ACS committee for the award, more perhaps than I can easily express. Over the years I had talked to all sorts of county cricket aficionados about a Kent A to Z or something like it. There was much support for the idea but it never travelled beyond talk. It was only through the ACS initiative and with their guidance that the A to Z ever became a reality.
Perhaps the most important contribution from the ACS was in accepting, and then facilitating, production of the A to Z in on-line format rather than book form. There were over 800 players to be written about from the start and the number has grown alarmingly since. Established players obviously needed full coverage. Lesser lights, including 'one match wonders', also deserved their five minutes of fame If they made the first team at all, they were in all probability damn good cricketers. The printed page was never viable.
If in some cases, a few entries seem a bit too long, I apologise. The project was never seen as being for reading from cover to cover. For most of the more significant players I have endeavoured to follow the sadly discontinued ACS Famous Cricketers Series and study the subject's career season-by-season, innings-by-innings. At any event it has been fun to do, particularly the first hundred years, and once again I thank all concerned.