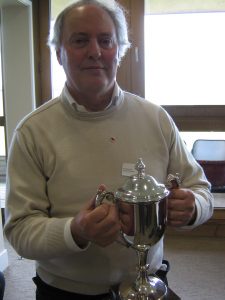 Robert Brooke was named Statistician and Historian of the Year for 2011 for writing the outstanding ACS publication of the year, F.R.Foster – The Fields were Sudden Bare. He became the first individual to win the award in his own right twice (Philip Bailey had received it once jointly and once outright), having previously won in 1989.
Along with Dennis Lambert, it was Robert who first mooted the formation of a 'Cricket Statisticians Association' in 1972. He was Chairman of the ACS from 1973 to 1979, Secretary in 1974, and remained on the committee until 1986. He was the author of the first book to be published by the ACS, on Warwickshire cricketers, and the first editor of The Cricket Statistician, remaining editor for 12 years.
F.R.Foster deals with a subject close to Robert's heart. The best subjects are often those whose off-field lives were at least as interesting as their time in the public gaze, and Foster was one of those. These days such characters, deserving though they may be, would be of little interest to commercial publishers, but the ACS Lives in Cricket, begun only four years ago, has quickly become one of the most popular of the Association's series. F.R.Foster is generally accepted as being the best of the series so far, and has won further acclaim beyond ACS circles, including being listed for the Cricket Society Book of the Year Award.