Don Ambrose Memorial Prize 2011 – Douglas Miller and Mick Pope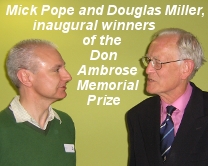 The inaugural Don Ambrose Memorial Prize was awarded jointly to two authors whose articles represented the two facets of the Association, history and statistics. A joint award was not planned, but the two articles in question, one statistical, one historical, stood out as the leading candidates, and could not be separated when put to the vote.
Douglas Miller's analysis of lbw decisions in the County Championship between 1919 and 2010 applied statistical rigour to challenge a number of long-held assumptions. He proved that county and Test appearances were, for many years, far more likely to be bestowed on umpires giving well below the average proportion of lbws; being a 'not-outer' was a shrewd career move. On the other hand, there was no evidence that former bowlers were any more sympathetic when themselves answering lbw appeals. However Douglas' most disturbing result was just how much more generously captains were treated by umpires, in being given not out when batting and also having appeals upheld when bowling.
Mick Pope's article on the scandals that dogged the life of Victorian batsman C.F.Buller covered two bankruptcies, three divorce trials and one other case of financial irregularity. Mick trawled not only through the usual cricketing sources, but also through UK and US census records, London and provincial newspapers, court records and even shipping passenger lists. Mick remarked that, in writing the article, he felt like a News of the World reporter. Had mobile phones existed at the time, no doubt Buller's would have been well and truly bugged!