A tribute from his son, Richard Isaacs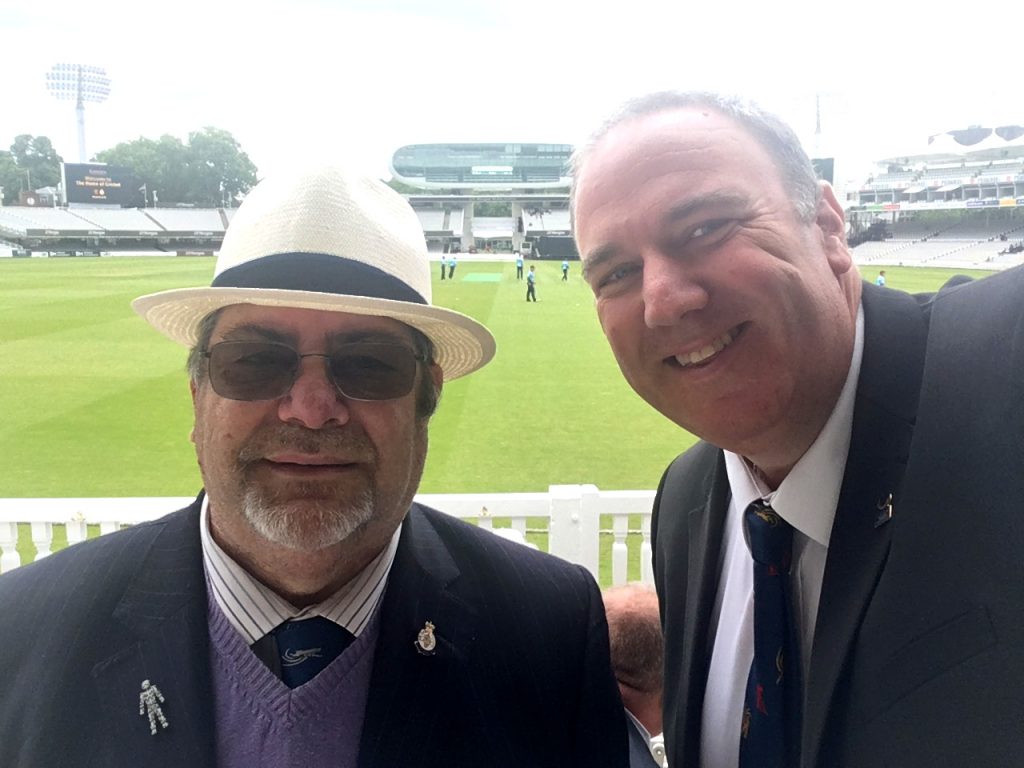 This is probably the most difficult piece of writing that I have ever had to produce, an obituary to the man who gave me the support and drive to become a cricket scorer and a statistician like him: my father, Victor Isaacs. Scorer and statistician to Hampshire County Cricket Club for 31 years, he also enjoyed a 60-year association with Army and Combined Services/United Kingdom Armed Forces. He became a leading figure in the Limited-Overs Cricket Information Group and, after LOCIG joined forces with the ACS, a member of the ACS committee from 1981 to 1988. And he was a pioneer of computerised statistics in the mid-1990s.
Dad was born in Glasgow on 26 August 1944, to German and Polish Jewish refugee parents. But he was forced to spend much of his youth in the appalling Smyllum Park Orphanage in Lanark, as his father was interned in the Isle of Man and his mother was unable to cope alone with their young son. Cricket was the very furthest thing from his mind during this time – it was all about survival.
He was finally reunited with his parents aged 12, and they all moved to Manchester. Five years later, he joined the Army as a Private in the Army Medical Corps. He had very little interest in cricket – the young Jewish boy went to the synagogue on a Saturday, and his only reference to the sport was occasionally hearing it on the wireless, mentions on the news before Woman's Hour, which his mother often listened to.
However, it was one day in Tidworth that commenced his cricketing odyssey – and the fact that he had 'A' Level mathematics. Following an order that all off-duty personnel must attend the regimental cricket match, his Sergeant Major bellowed 'ISAACS!' across the field. Pte Isaacs marched over and was informed that his qualifications were good enough for him to score the match; he was hastened towards a table with a hieroglyphical-looking book of lines and boxes and a blunt pencil. His opposite number, the Army's regular scorer at the time, was far from impressed at this novice joining him but, with a sharpened writing implement, young Isaacs sat and scored the game – barely watching the actual game, just following his colleague's every move.
At the end of the match (which Dad thought was over at the tea interval, being keen to go to the pictures), the officer was pleased with his efforts and told him this would be his regular duty from now on. Seeing it as a rather marvellous Army 'skive', he thought he had better learn more of this game of bats and balls and taught himself everything he needed.
Ironically, he became the Army's regular scorer in 1964 on the retirement of the man he sat with in his first game, travelling across the country and around Europe with the team until leaving the service – his last game was British Army of the Rhine against the Army side in Rheindahlen in Germany in August 1971. Dad had already moved to Romsey in Hampshire, joining Romsey Cricket Club shortly after meeting and marrying his young bride Brenda – they would be married for 48 years until her passing in 2019.
Having learned all about scoring, Dad started to compile the statistics for his club side, piecing together the numbers from the various scorebooks loitering around the pavilion and in members' lofts. Then a chance meeting with Hampshire scorer Peter White in 1974 opened the door to Dad taking over the County First XI position the following season. He envisaged doing it for only one year, as he had a young family (I was born in November 1972) and he was looking for a regular 12-month-a-year job, not just half a year. However, a visit to a sponsor's tent at Northlands Road after play one day and a talk with the manager of Atlantic Container Lines led to them offering Dad work from October to March, so he could continue with Hampshire in the summer.
It didn't take him long to oversee a piece of silverware: Hampshire won the John Player League in 1975 at Derbyshire's Darley Dale and followed up in 1978 and 1986 with more Sunday League honours. There was a trip to Lord's in 1988, when Hampshire defeated Derbyshire, and then the thrilling 1991 NatWest Trophy win over Surrey and the 1992 B&H triumph against Kent. And there was one more to come.
One task assigned to him by Hampshire secretary Desmond Eagar back in 1975 was to rewrite and produce the county's wavering statistical record. Armed with a typewriter, plus several arch files and accountancy tallies, he worked tirelessly through the nights compiling the records – going to print with Hampshire County Cricket Club First-Class Records 1864–1992, and then Hampshire County Cricket Club One-Day Records 1963–1995, both published by Limlow Books.
He joined the Limited-Overs Cricket Information Group shortly after its formation in 1977, which came about because some ACS members thought recording and compiling statistics on the shorter version of the game was not something they should be undertaking. By March 1980, Dad was running the LOCIG project to compile Gillette Cup records for the first five seasons, and by 1981 he was LOCIG's statistical co-ordinator.
LOCIG merged with the ACS in 1986; the group's typewriter was given to Dad in recognition of his services to its publications. Of course, they had no computers back then!
When computers did start to edge their way into statistics, Dad was one of the first within the ACS to encourage their use in collecting and generating statistics. He wrote an article about this in the ACS Journal No 51, Autumn 1985 (pages 31-32). He encouraged many to use the statistical packages then available and was a pioneer in spreading the word.
In 1990, the ACS published a book of One Day International Cricket Records which he had produced alongside Bob Witham, another member keen to venture down the avenues of computerised statistics. Also under the ACS banner, Dad would later publish the Gillette Cup & NatWest Trophy Record Book 1963–1996, written with me, and Malcolm Marshall, with local historian Dave Allen in 2000, marking the passing of the great West Indian and Hampshire bowler. He was named Statistician of the Year for 1996.
Dad continued with Hampshire throughout one of the most successful periods in their history, although a County Championship win eluded him. One man who knew him well was captain Mark Nicholas – he shared many an hour with Dad, loving his infectious, bouncing giggle and, even more, his professional approach to an often-thankless job.
Dad became a recognisable voice too, taking over as public address announcer at all of Hampshire's games – keeping the crowds informed, and often entertained as well.
The county moved from Northlands Road, their home for 115 years, to the purpose-built Rose Bowl in 2001, and Dad saw a change in the emphasis of Hampshire County Cricket Club – including a change of name to Hampshire Cricket to show their newer, business-based persona. When the Twenty20 era dawned on 13 June 2003, he scored the opening match, between Hampshire and Sussex. But at the end of the 2005 season he was retired by the county and replaced by a man 19 years his senior.
So 31 fantastic years with Hampshire came to an end – aged 61, he had given half his life to their service. He had seven titles in that time, starting with that Sunday League trophy in 1975 and finishing with the C&G Trophy in 2005, when Hampshire beat Warwickshire in the final at Lord's.
Upon his removal from Hampshire, he moved back to his roots in northern Manchester and started to score for Lancashire League side Ramsbottom. Of course, scoring was never going to be enough for him: he spent many hours in the Rawtenstall Library researching their past. But three years later he headed back south – a return to his old club at Romsey Sports Centre beckoned.
A little-known fact is that Dad was the official scorer for the short-lived Indian Cricket League in its inaugural season in 2007/08 – which he described as quite an experience, not necessarily for the right reasons.
He scored for Old Tauntonians and Romsey for three years before switching to Calmore Sports in 2012 for three more. Because of the distance from his home, and with wife Brenda no longer driving, he decided to find a club nearer to home and rocked up at Sarisbury Athletic, and then a very friendly club called Friends in 2016.
It was the decision to go and visit one of his old haunts in 2010 that would set him up for the next 12 years. Once again, it was his opposition to saying 'no' and always wanting to do something worthwhile.
The Army Cricket Ground in Aldershot was his destination, just to go and watch and see how things had changed since he last scored there on 20 August 1969. He was welcomed with open arms, chatting with the then Secretary, Col. Peter Sharland, about his Army and Hampshire past. A lengthy discussion followed, but little did Dad know that he would be leaving that ground with a car boot full of scorebooks, after picking up the Combined Services Yearbook and discovering that there were plenty of RAF and Royal Navy statistics but very little of the Army.
It was a task that he lovingly and meticulously threw himself into, compiling the Army and Combined Services (now UKAF) records: men, women and development teams going all the way back to 1906. He loved doing it, and he was warmly received and appreciated for all of his efforts.
Unfortunately, his health took a turn for the worse in his latter years and he would hang up his yellow table tennis bat and pens in 2019 – but not before being awarded life membership of the United Kingdom Armed Forces Association of Cricket Officials and scoring for one last time at Lord's, just two weeks after his wife Brenda's death and alongside his son, who he taught everything.
He had to undergo kidney dialysis three times a week and lost a toe early in 2022 – he had been a diabetic for over 35 years but got an infection which required him to have surgery.
But Dad continued to compile records and statistics for the Army and UKAF right up until his final days – he had his computer next to him on his passing, ready to update the database with the latest scorecards.
It has been said that any child who suffered the pain that he did in his early years in Scotland would 'become the police's problem'. He didn't, he rediscovered his Jewish faith and became one of the leading scorers and statisticians in the world. He proved many wrong, he made his life in a sport of which he knew nothing, rarely saying no to a challenge or a task.
He leaves my sister Rachael and me, and his grandson Nathan.
RIP Dad, thank you. Thank you for everything you did for me, for us, the family, your friends, and the game of cricket.
Vic Isaacs's funeral will be on Thursday 18 August 2022, 2.30pm, at Southampton (Stoneham) Crematorium.