By Patrick Ferriday, Von Krumm Publishing, pp408, £25, ISBN 978056732187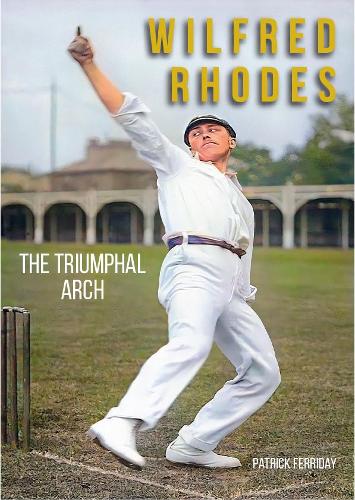 A great cricketer deserves a great biography. This is the one. There have been two previous biographies of Wilfred Rhodes – has there ever been a wiser and more knowledgeable cricketer? – both good and both written over sixty years ago. But here we have one to match the subject, more than 400 pages for it, and the only time my interest flagged was perhaps early on, the setting of the scene with intricate family and background detail when I was eager to get on to the man himself.
But the family and social context are important, although a proper explanation of exactly what a Yettoner is would be desirable. The title is finally explained on page 407. We go through his career season by season, sometimes almost match by match, but with relevant diversions sometimes. I found it all compelling reading, with so many interesting observations and at times trenchant and enlightening comments about many of the top cricketers, selectors and administrators of Rhodes's times. Those who already know the most about Rhodes will be the ones who are most impressed about how much they didn't know.
Here is Wilfred Rhodes as we have always known him, who could be taciturn and awkward, a difficult man to know or win the respect of – although mellowing with age and blindness – a private modest man who got on with his job and did it as efficiently as a human being can, a man with a remarkable talent and an even more amazing wisdom as how best to use that talent. As a cricketer he was a genius as a spin bowler, and very capable with the bat, good enough to become England's best Test batsman after Jack Hobbs. But in fact he was more than that too, as the analysis of his bowling and tactical acumen through the years shows; he could also be a superb attacking batsman who once took apart the bowling of a fired-up Walter Brearley, and his fielding is rarely given much if any mention in writings about him – yet he was one of the best there too, especially close to the wicket.
There are many interesting and relevant photographs, and enlightening comments from team-mates and other players about the man. The book discusses his relationships with the likes of George Hirst, Emmott Robinson (perhaps his soul-mate) and even Neville Cardus, among others. Some parts of his career are covered in fascinating detail, such as the famous Oval Test of 1926, in which he was really reluctant to play. His bowling strategies and tactics and his influence as the eminence grise behind the Yorkshire team of the 1920s are thoroughly examined.
There is just one area where I would wish for more detail. Yorkshire during the 1920s were at times criticized for a sometimes over-aggressive, over-competitive, unpleasant attitude on the field, and at times placing avoidance of defeat ahead of actually winning matches, especially by southern counties like Middlesex. Mr Ferriday goes into this without really taking sides, but there were certainly areas where Yorkshire players were at fault, such as Abe Waddington's occasional outbursts, George Macaulay's sometimes vicious sledging and the quiet removal of Geoffrey Wilson as captain in 1924 for being unable to instil discipline in the players. I cannot help but wonder reluctantly whether Rhodes, as senior professional, should not bear some responsibility for this.
The book is not quite perfect: there are occasional proofing errors and even factual slips: for example, Ephraim Lockwood was nephew, not uncle, of John Thewlis; there is some confusion between Arthur and Vic Richardson; and Rhodes and S.F. Barnes were not the last surviving Test players from the Golden Age (Frank Woolley and 'Tiger' Smith survived them both). But overall I cannot remember ever reading a more complete, interesting, fascinating and informative cricket biography, one I feel sure that everybody with a genuine interest in cricket history will never want to miss. A great tribute to a great cricketer.
John Ward (The Cricket Statistician, Spring 2022)