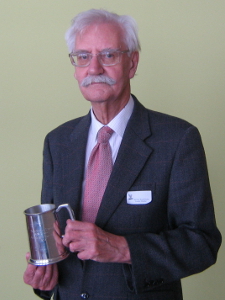 Peter Wynne-Thomas was named Statistician and Historian of the Year for 2012 for his work in writing probably the most financially successful book in the history of the ACS, Cricket's Historians, which charts all those who have written on cricket's history and statistics over the last couple of centuries.
Peter has been at the forefront of the game's researchers for some four decades. His first book of an estimated fifty – Nottinghamshire Cricketers 1821-1914 – was published in 1971, when it was the Cricket Society's Book of the Year. Though he had not previously won the ACS Statistician of the Year award in his own right, he did share it in 1993, with Philip Bailey and Philip Thorn, for the Who's Who of Cricketers, a 1,144-page epic.
For many people, and for many years, Peter was the public face of the ACS. He was present at the first meeting 40 years ago, and has missed only one AGM since. He served as Treasurer from 1973-74, then began a 32-year stint as Secretary. Deeply involved in many ACS publications, he contributed a number of volumes himself, as well as typesetting many early booklets; for years, he checked and sub-edited them and did the art work. He has always been prepared to share his knowledge and findings with others, and has been particularly supportive of new writers and researchers.