By Patrick Ferriday and James Mettyear, Von Krumm Publishing, pp 240, £17, ISBN9780956732194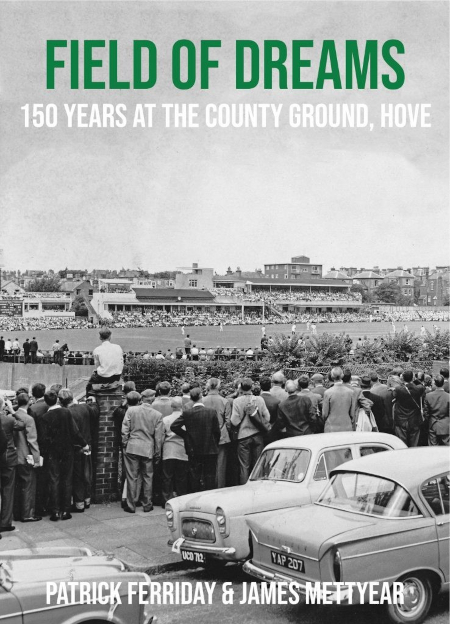 This book, as acknowledged in the authors' Preface, is 'emphatically not another history of Sussex cricket'; rather, it is a celebration of 150 years' play at Eaton Road and a commemoration of the people and events which have shaped the county ground. The Foreword by Clare Connor, whose cricketing career began as a member of the Sussex Boys junior squads, sets the tone of the volume, which is both an exercise in nostalgia – 'Field of Dreams' more than hints at its subjective nature – and a beacon of hope for the future of the county game.
The authors have adopted an interesting format. The book is divided into two parts, the first of which is sub-divided into six chapters which trace the chronological development of Sussex county cricket from its beginnings at the Brunswick Ground in 1848. Each chapter is followed by additional information on its salient points; for example, 'WG at Hove', 'Cricket Weeks', 'Cardus, Fry and Ranji at Hove' and 'World War I' as addenda to Chapter Two; and 'Maurice Tate', 'Women's Cricket at Hove' and 'World War II' following Chapter Three. This approach enables the authors to develop certain themes without interrupting the flow of the main text, including references to the wider social issues contextualising the game, e.g. the 'predictable witticisms' in local press coverage of the 1935 match at Hove between South Women and The Rest of England.
Part II consists of a number of interviews with a range of supporters for whom the home of Sussex cricket resonates in deeply personal ways. It is clear that the restrictions of Covid limited the number of interviewees, but these snapshots of people of diverse backgrounds united by their love of the ground shine a light on the social significance of sports in general and cricket in particular. It is the community spirit engendered by the county game and ground which emanates from these pages.
As a publication, the book is well presented, in a green dustjacket over black boards with silver gilt lettering down the spine. Ample photographs illustrate both the text and the jacket. At £17, it is reasonably priced, and would make a graceful addition to the shelves of any Sussex cricket devotee.
Roger Heavens (The Cricket Statistician, Winter 2022)