By Paul Akeroyd, JW McKenzie Ltd., Hardback, pp 288, £20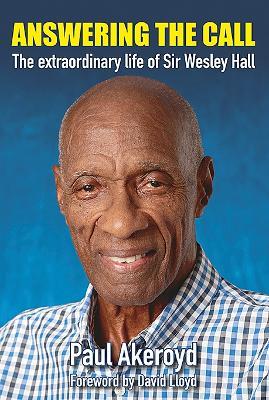 'Few people, and probably no other cricketer, can claim to have achieved so much in so many diverse fields as Wes Hall.' Thus does the author close a biography that has certainly done justice to its subject, and his seemingly grandiose claim is fully justified in a book that is the finer for the help Sir Wesley Hall has freely given.
Paul Akeroyd lives in Surrey and made several trips to Barbados to sit down with Hall and record the details of a life in which playing cricket was a crucial but not dominant part. Born in 1937 some decades before the Caribbean islands won their freedom from colonial rule, Hall's early life owed much to a mother who always encouraged him to aim high. Wes took her literally – from the humblest of backgrounds he was going to win a scholarship to Combermere School and he was going to play cricket for West Indies!
Both goals were achieved. Hall is able to look back with gratitude to members of the teaching staff at the prestigious Combermere who fired his imagination whilst also helping to turn him into a decent cricketer, albeit as a batsman who also kept wicket! This all changed when the absence of a regular opening bowler in a club match prompted his captain to persuade Hall to take off his pads for an over or two 'to take the shine off the new ball'. The rest would soon be history.
After just one first-class match Hall was on the boat to Britain as a member of the 1957 West Indies team. He was given only limited opportunities and played in none of the five Tests, but he was learning about the game and about life, not least from his roommate Roy Gilchrist, already the spearhead of the Test attack and the bowler with whom Hall would form a fearsome opening pair in India 18 months later. That the career of a man he would always count as a friend came to a sadly premature end was, in Hall's view, a reflection on the insensitive handling Gilchrist received as he struggled to overcome his insecurity and adjust to life in the public eye.
With Frank Worrell as captain there was a new spirit in the West Indies side that contested an iconic series in Australia. Test cricket's first tied match earns a whole chapter with Hall describing each ball of the fateful final over. His sharp memory for detail is seen again as he recalls the dramatic end to the Lord's Test of 1963 with the injured Colin Cowdrey watching David Allen play out the last two balls. By this time Hall had acquired a new partner and lifetime friend in Charlie Griffith. At its peak in the early 1960s, their partnership never ran its full potential course with Hall's performances tailing off as he lost fitness. We now learn that he had needed proper medical attention while the national selectors were insisting on a programme of long training runs that did nothing to recover his sharpness as a bowler.
A listing of Hall's subsequent achievements includes no sinecures. Whatever he took on, Wes Hall gave it his all, bringing to bear his special talent for getting along with people from all walks of life. There was a spell in Trinidad implementing an island-wide coaching programme which led a catholic priest to turn to Hall for help in a mission with wider social objectives. With the acronym SERVOL – Service Volunteered for All – it gave hope to youngsters who would too easily have found their way to a life of crime.
Back in Barbados, a spell with Cable & Wireless, his earliest employers, saw Hall responsible for employee relations and the setting up of a new sports centre. Soon there was a surprise approach from the Governor General: still only 34, Hall was asked to take up one of the seven places in the island's senate that were in his gift. It suited Hall to play a role in government where he could follow his conscience rather than a party whip, though he was later to serve as an elected member of the lower house, the Assembly. Appointed Minister of Tourism and Sport, he overcame initial criticism that he was 'only a cricketer', going on to play a major part in developing this key aspect of the Bajan economy.
Between these parliamentary stints there was a happy period with Banks, the principal brewer in Barbados, where he combined the roles of PR and personnel. Sympathetic employers, mindful of the value flowing from association with a cricketing hero, happily allowed Hall time away to manage tours. Though he commanded respect from most of the emerging West Indian players not all was sweetness and light and we share the problems he faced on the 1995 tour with Brian Lara and others. Later on he accepted the presidency of the West Indies Cricket Board.
Wherever he turned his hand Wes Hall had always been guided by a code of conduct instilled by his devout mother. Christian morality had governed his instinctive moves, but in 1988 he was to make a life-changing commitment to serve God that led to his being ordained as a minister of an evangelical Pentecostal church. A gifted preacher, he was in regular demand to conduct funerals, including many for cricketers alongside whom he had played, among them Roy Gilchrist, Sir Clyde Walcott and his lifelong friend Rawle Brancker, with whom he had toured England in 1966.
Wes Hall has ensured that a book about his life pays full tribute to those who helped him along the way. In their different ways each of the Three Ws made telling contributions, while Hall is unstinting in his admiration for his friend Garry Sobers not only as a player but also as a sharp thinker about the game.
Published by John McKenzie but brought together by Stephen Chalke, this well-written book has all the production values associated with the old Fairfield titles. It has a good selection of photographs, essential statistics and a decent index. In every sense this is a proper biography. Hall's personality ensures a few moments of levity, but the text is free from the tittle tattle that is too easily thought essential these days. Highly recommended.
Douglas Miller (The Cricket Statistician, Spring 2023)