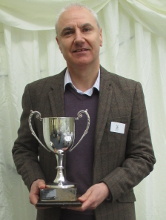 An active member of the ACS since the 1980s, Mick Pope joined the committee in 1994 and served until 2007. During his time on the committee he was marketing manager for four years.
Mick originally made his mark as cricket historian with The Laughing Cricketer of Wombwell – a biography of Roy Kilner – and then with Tragic White Roses which tells the stories of Alonzo Drake and Major Booth. In addition he produced Yorkshire County Cricket Club in the Archive Photography series. He co-wrote two books with Paul Dyson – Yorkshire County Cricket: 100 Greats and Yorkshire County Cricket Club: Classic Matches. 2013 saw the publication of the extremely well researched Headingley Ghosts – an acclaimed book of three strands – Yorkshire, cricket and tragedy.
A meticulous researcher, it was Mick who found the full score card of the famous Sheffield and Leicester v Nottingham match in 1826. This discovery gave us the earliest instance of a full bowling analysis. In recent years Mick has written eight articles for the Journal, in one of which he reproduced Old Ebor's forgotten interview of Charlie Ullathorne. Another article brought to light the history of the scandals that marred the life of C.F.Buller.
Enthusiasm for cricket, diligent research and attention to detail are all essential qualities required by any serious cricket researcher. Mick possesses these in abundance which makes him such a worthy winner of the trophy for the Statistician of the Year 2014.