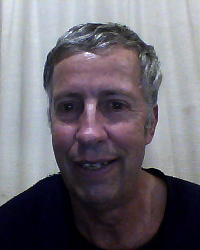 It says a lot about John Ward that when I contacted him to tell him about the award his first reaction was that it was all a big mistake and my message must have been intended for someone else.
And after all, it's a fair question – channelling my inner Monty Python here – 'What has John Ward ever done for us?'
Well, apart from being an association member since 1974, he has –
written book reviews for the Journal
supplied additions and amendments to match scores on Cricket Archive
provided invaluable support year after year for OFCA
initiated and continued, often with daily updates, the hugely popular '100 years ago' commentary on the online members' forum.
John was born in Yorkshire but has lived in Rhodesia-Zimbabwe since the age of five. His enthusiasm for the game was first kindled on a family holiday in England in 1966, when he watched on TV as England's newly-installed captain Brian Close led his side to a memorable victory over West Indies in the final Test – and, for good measure, captained Yorkshire to the Championship. Heady days indeed.
John played club cricket on and off from 1971 until 2007, giving up only when they switched to T20 format. From 1974 to 1996 he coached and umpired primary school cricket, and was standing as umpire in a schoolboy match in 1979/80 when Andy Flower hit his first-ever century.
John's cricket reporting kicked off in 1977 as a contributor to the ACS's 'Cricket News' (does that title bring back a few memories?) and he has gone on to contribute articles and reports to the Cricketer, CricInfo, Cricket Archive and Wisden. He still provides reports for Zimbabwe Cricket.
Or, to use John's own words in summing all this up: 'just a few bits and pieces'.
Well, it's to recognize 'bits and pieces' like these that we inaugurated the PWT Award.
John Bryant