A tribute from his friend and colleague, Vishal Misra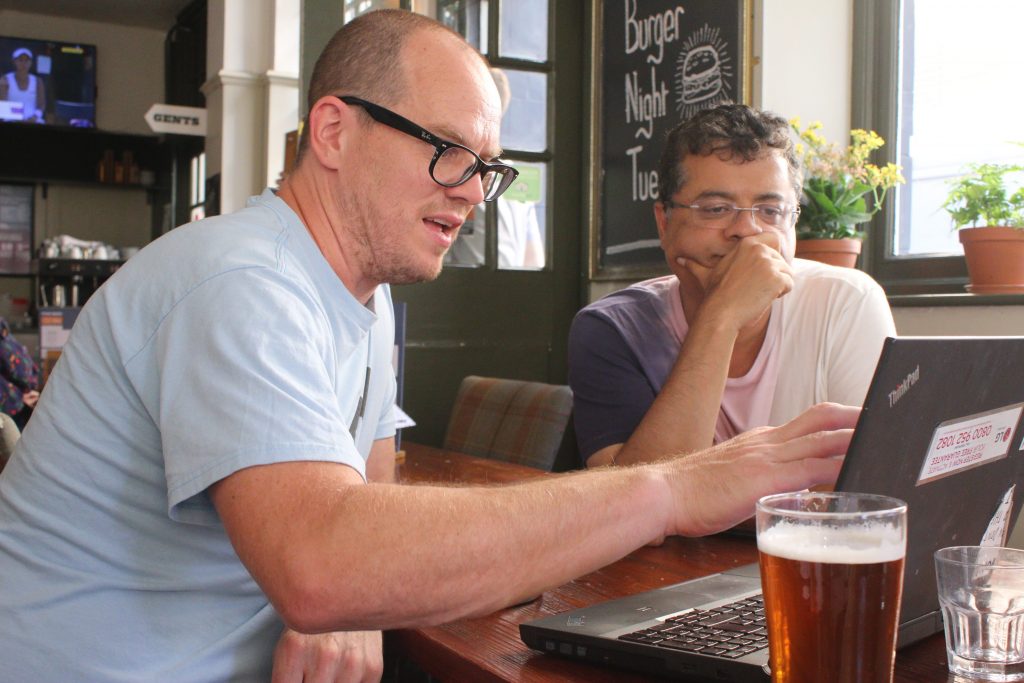 Travis changed cricket.
Not many people can say that they changed a sport, especially if they did it without being a star player or an administrator or a billionaire starting (rebel) leagues.
But Travis changed cricket.
Since his passing, several people have mentioned my deep friendship and partnership with Travis, and I have penned some thoughts on that and what a truly magnificent and unique individual he was.
Travis and I worked on several things (often together) for CricInfo, but the most impactful were three aspects: getting the scorecards archive complete; getting the live scorecard infrastructure put in place; and, finally, StatsGuru.
I first met Travis on the Internet in the fall of 1993 when I discovered irc and #cricket. I had just moved to the US as a graduate student and, being a big fan of cricket, I needed my fix. We became part of the volunteer group of CricInfo, a ragtag bunch of cricket fans on the nascent Internet, distributed across the world and led by Simon King.
Travis and I hit it off right away – besides our common love for cricket, we had a shared sense of humor and were huge fans of the TV show Beavis and Butthead. Often we'd start the routine on irc and go off on the act so much so that we were known as <travishal> (and sometimes got kicked off the channel!)
The scorecards archive
CricInfo was in its early days and maintained a 'database' that was entirely contributed by volunteers. The database was a collection of articles or scorecards that were typed up by our dedicated volunteers. As you can imagine if you think about scorecards, it was sparse and often riddled with errors. While both Travis and I loved the romance of the game, we were equally passionate about precision: hard, verifiable facts, and data. Statsguru was always on his mind.
Travis and I started discussing how we could fix this problem and took it upon ourselves to find a solution. To get accurate stats, you needed a complete and accurate database of scorecards – our archive had barely 5-10% of the scorecards. In the summer of 1995 we hit upon a plan. At that time, there were software packages available for PCs that let you run some stats on Tests and ODIs.
We had this idea that we would run the stats package one game at a time, get the raw output and use that as input data for our own scorecard format. We spent a considerable amount of time designing the CricInfo Scorecard format v1, to keep it aesthetically pleasing but at the same time fit all the information in the 80-column width that we had budgeted. Once we had the format down, I started writing the code to create the scorecards (Trav at that time couldn't code to save his life).
Travis was then doing his engineering in Sydney and I was doing an internship in the New York City area. Every day after dinner, I would return to my office; Trav would just be waking up, and we'd get to work. He would've spent the entire previous day going over the results of the previous day's work, cross-checking the scorecards generated against sources like Wisden and fixing small mistakes.
The process was time-consuming. I had the easy part of the job, simply running my script and generating thousands of scorecards automatically, but Travis gamely took on the hard work of going over each one of them. He did it without complaining, and with his usual dose of humor would make wry jokes about any programming bugs I had created.
To help speed this process, I wrote some scripts that would create aggregate stats from a collection of scorecards. This way we could check for errors in multiple scorecards at a time – if the stats for a series checked out against a source like Wisden, then no need to go check every card from that series. I had no idea then, but Travis was already thinking of creating StatsGuru; years later, he told me that those scripts eventually turned into StatsGuru.
By the end of the summer, we had completed the scorecard archive and the management of CricInfo triumphantly announced it to the world. Every scorecard on CricInfo had a tagline 'Thanks: Travis, Vishal' – but in a nod to our volunteers who had typed up some cards in the past we retained a 'contributed by xyz' when we replaced those specific cards in the database. For the first time in history, all the Test and ODI scorecards were available for anyone to look at anywhere in the world, free of charge.
Live scorecards
The next phase of CricInfo's evolution came during the 1996 World Cup: due to a crisis, we were forced to invent our live ball-by-ball scorecard infrastructure, anchored around 'dougie', software written by a South African graduate student, Jacques deVilliers. This solved the problem of keeping our scorecard database active and current, since we started generating the new cards ourselves (since then CricInfo has covered every international game live).
For the World Cup, we also improved those stats scripts with the help of another friend, Nandan Nayampalli, who had a short but invaluable stint as a volunteer for CricInfo. Those scripts were used to generate live stats during the World Cup, and Travis was collecting them all in his bag to eventually build StatsGuru.
In the late 90s CricInfo received significant investment dollars and became an actual company with employees and real offices. I had to make a decision to either join CricInfo full-time and quit my PhD, or reduce my involvement with CricInfo. I decided I wanted an academic career.
Thus far, I was maintaining the live scoring software and doing enhancements and bug fixes, but I asked Travis to take over. He had by then moved to England, and had learnt coding. Our 'database' was still essentially a collection of text files, not a database in the conventional sense of a relational database. During the World Cup of 1999, we briefly flirted with the live scorecard in a Java applet that needed its data from a relational database. So we built an interface to dougie that wrote out each ball into a relational database. For the first time, CricInfo had a relational database with cricket data. Travis, head spinning.
Statsguru
Following that World Cup I withdrew almost completely from CricInfo – but remained in constant touch with Trav. One day, out of the blue, I saw the announcement for StatsGuru and my jaw dropped. He had been working silently, on his own, and then suddenly released his magnum opus. When I asked him, he said, modest as ever, 'Remember those scripts from World Cup 96? That was the origin.'
Those clunky Perl scripts were probably 0.001% of what Travis had managed to do. He (who did not know how to code a few years earlier) had designed the schema of the database that would answer the stats questions a fan like him would pose, and populated the database by parsing the scorecard text files as the input.
He then designed a web interface that would let users pose questions which he would translate to SQL queries, get the results and post them back on the webpage in an easy to digest format. All working essentially alone. All for the passion of the game. Once again, he was not a natural or trained programmer, he picked it up because he wanted to build something for cricket.
Much has been written on how StatsGuru has transformed the way cricket is played and consumed – from fans to journalists to players – anyone could now look up all sorts of cricket stats. Gavaskar's record in the fourth innings of drawn Tests? Lillee's record under Hughes's captaincy? Jardine's batting average in Australia? Clive Lloyd's win/loss record as captain when he lost the toss? All at your finger tips.
Like the scorecard archive, this service was provided free of charge, 22 years ago. Travis was so far ahead of his times it was unimaginable. He always had a vision around cricket and stats, and worked relentlessly until he achieved it.
After Cricinfo
CricInfo went through a lot of turmoil soon after the dotcom crash, but Travis was one person who always maintained his integrity. He soon left for Wisden, 'came back' when Wisden acquired CricInfo, and stayed on when CricInfo moved to ESPN. His final act was as the chief technology officer of CricViz, another company that is dramatically transforming cricket.
Even though my involvement with CricInfo went down to zero, Travis and I remained in constant touch. We would exchange emails and messages and also saw each other in person regularly. I would see him when I went to England, and he often visited me in the US. We have walked around the Charles River, hit both Croydon and New York City pubs (where he would easily out drink me 4:1) and I even got him to play a cricket game with me in Connecticut!
The day his son was born, I got an email from him announcing the birth, and adding 'set aside time for your next visit so we can discuss dowry for Ila' (Ila being my daughter, who was born a few months earlier). That was Travis, physically incapable of saying anything without wit and humor. He loved his family dearly and had his son's initials tattooed on his arm.
I last physically saw Travis in July of 2019, during the last ODI World Cup in England – we met at a favorite pub of his, he regaled my family with stories and jokes and then opened up his laptop to excitedly show me the data that CricViz was collecting and the plans for all kinds of new analysis. We exchanged a few ideas around working together, but then the pandemic came and the world stopped. In the midst of that, one day Travis sent me a message that he wanted to update me on something. Over Zoom, he told me of the diagnosis and my heart sank.
What kept me afloat was how stoic he himself was, calmly telling me how he was going about with various operations and treatment options. Over the next year and a half, I went through the roller coaster of hoping against hope, with good news followed by bad news followed by good news… When I stopped getting updates directly from him and they came from his wife Jane, I knew the end was near. When it finally came, it was still hard to accept. My buddy who changed the game that we both loved for ever was gone – <travishal> was now split into two.
Farewell my friend, until we meet again. I am lucky to have known you.
A few months after his death, Travis Basevi was awarded the Brooke-Lambert Trophy for the ACS Statistician of the Year.