Welcome to the ACS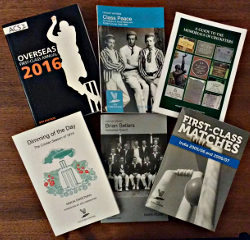 Welcome to the website of the Association of Cricket Statisticians and Historians. If you are looking for an answer to any question about cricket, seeking clarification about a particular record or feat, or searching for information on a team or a particular player, you have come to the right place, as the members of the Association have a wealth of knowledge and expertise about the game, its records and the feats of players and teams all over the world.
If you have a query, please send an e-mail to secretary@acscricket.com and the Secretary of the Association will point you in the right direction.
If you are undertaking family history and seeking information about a relative, or if you are looking for information about a particular match, you will find the CricketArchive site a useful starting point. ACS members are entitled to a discount on the CricketArchive subscription.
Many members of the Association have helped to compile this archive, and the information you are seeking may already be there.
Andrew Hignell, Secretary
---
Brian Heald, 1938-2017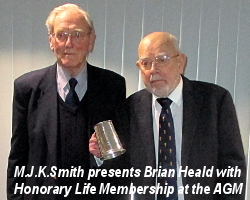 We are very sorry to report the death of former committee stalwart Brian Heald, aged 79.
A civil servant with Customs and Excise, Brian was one of 30 founder members present when the ACS was set up in 1973, and served on the committee from 1988 to 2005. For much of that time, he played a valuable role as organiser of the Association's annual London meetings.
He also worked on some of our key statistical publications; in particular, he was a member of a small subcommittee responsible for putting together the most challenging of our series of Guides to First-Class Matches, on India, and later had a similar role with the Sri Lanka guide. In the 1990s and 2000s he was the general editor of the Statistical Surveys series, covering the years from 1868 to 1881, and he was the joint compiler of the volume for 1863.
Outside his work for the ACS, Brian was Essex CCC's statistician until 2016, and provided key statistical inputs to the Playfair Cricket Annual, The Cricketer Quarterly, and the Benson and Hedges Cricket Year. Though an Essex Man by adoption, he remained a Yorkshireman by birth and inclination, and a loyal supporter of Hull Kingston Rovers. As well as an extensive library, he had a collection of several hundred cricket ties.
His wife, Jenny, has contributed significantly in her own right to the ACS and to Essex, as well as being at Brian's side for so much of his time with the Association. We extend our sympathies to her and the family.
Brian was awarded Honorary Life Membership of the ACS at the AGM in March.
---
CricketArchive paywall: discount for ACS members
As mentioned above, the owners of CricketArchive have put its website behind a paywall, with a subscription of £4.99 a month or £49.99 a year.
In recognition of the long-standing ties between the ACS and CricketArchive, and the work many ACS members have contributed to website, members have been offered a 33% discount on the annual subscription, bringing it down to £33.49. CricketArchive have also promised to refund this discount to members who have paid the full subscription.
Instructions for obtaining the ACS discount may be found in the Members' Area, which is password protected. If you do not yet have the password, or have lost it, contact webmaster@acscricket.com; once we have confirmed you are on the current membership list, we will send you the password.
---
ACS membership: change of address
The ACS Membership Secretary, Huw Nathan, has moved to a new address. If you need to write to him, he can be reached at:
Huw Nathan
ACS Membership
36 Runton Road
Branksome
Poole
Dorset
BH12 1NX
However it is usually quicker to contact him by email via membership@acscricket.com or by phone at 07779 324769.
---
Autumn Publications and Sale
Our new titles – Class Peace (the first volume in our new series, Cricket Witness), Maurice Leyland and Dorset Cricketers – are now available, along with earlier publications, in our online shop.
We are also holding a further sale of 25 14 older titles at prices from £1.50 to £10.50. If these books are not sold by 31 October, we will be disposing of them.
City Press Leeds, who have taken over the running of ACS Sales, are obliged to pass on the extra cost of processing orders and cheques received by post. For this reason the ACS have had to introduce a handling charge of £2 per order received by post.
Members and customers who use the ACS Online Shop are of course exempt from this charge.
If you need to get in touch with ACS Sales, the contact details may be found here.
---
Cricket: A Weekly Record 1882-1914 online
The digitised version of Cricket: A Weekly Record of the Game, the magazine which ran from 1882 to 1914, is available on the ACS website here. There is also a link to it in the left-hand sidebar.
---
ACS Online Cricket Records
The Association of Cricket Statisticians and Historians' Online Cricket Records Section covers first-class cricket, Test cricket, List A, Twenty20 and women's international cricket; it is being extended to cover all women's cricket. Suggestions for improvements or corrections should be sent to records@acscricket.com