Welcome to the ACS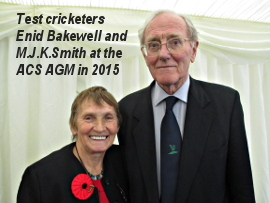 Welcome to the website of the Association of Cricket Statisticians and Historians. If you are looking for an answer to any question about cricket, seeking clarification about a particular record or feat, or searching for information on a team or a particular player, you have come to the right place, as the members of the Association have a wealth of knowledge and expertise about the game, its records and the feats of players and teams all over the world.
If you have a query, please send an e-mail to secretary@acscricket.com and the Secretary of the Association will point you in the right direction.
If you are undertaking family history and seeking information about a relative, or if you are looking for information about a particular match, you will find the CricketArchive site a useful starting point.
Many members of the Association have helped to compile this archive, and the information you are seeking may already be there.
Andrew Hignell, Secretary
---
Delay with digitised Cricket
The committee would like to apologise for the continuing delay in launching the digitised version of the 1882-1913 magazine Cricket: A Weekly Record on the ACS website. The digitisation process has been completed, and we hoped to have it online by the start of this month, but technical hitches mean that we haven't yet achieved this. We'll let you know as soon as we have a new date.
---
ACS Sales has moved
Since 15 February, Peter and Jenny Griffiths of Limlow Books have retired from managing ACS Sales. The ACS would like to thank them for their eight years of first-class service.
Neil Beck of Castle Cricket Books, Pevensey, has taken over. All book orders and sales enquiries received by ACS Sales from now onwards will be dealt with by him – though you can order online via our website shop.
The new address for Sales is:
ACS Sales
Ivymead
Castle Road
Pevensey
East Sussex
BN24 5LG
Telephone: +44 (0)1323 460174
Email: sales@acscricket.com
ACS Sales is no longer dealing with any membership matters. Members should communicate directly with the Membership Secretary, Huw Nathan, at:
Meads Place
40 Sergison Road
Haywards Heath
West Sussex
RH16 1HX
Telephone: +44 (0)7779 324769
Email: membership@acscricket.com
---
ACS Online Cricket Records
The Association of Cricket Statisticians and Historians are proud to announce the launch of their new Online Cricket Records Section. To read more and to register, please click here, or use the Cricket Records link on the left-hand side of this page.
The Online Cricket Records section now covers first-class cricket, Test cricket, List A and Twenty20.
The Records section is free to use, but please note there is a log-in procedure.
We acknowledge with thanks the support of CricketArchive.