Welcome to the ACS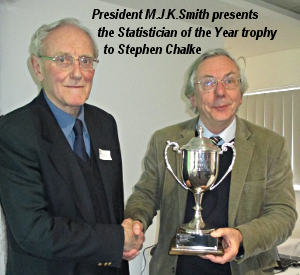 Welcome to the website of the Association of Cricket Statisticians and Historians. If you are looking for an answer to any question about cricket, seeking clarification about a particular record or feat, or searching for information on a team or a particular player, you have come to the right place, as the members of the Association have a wealth of knowledge and expertise about the game, its records and the feats of players and teams all over the world.
If you have a query, please send an e-mail to secretary@acscricket.com and the Secretary of the Association will point you in the right direction.
If you are undertaking family history and seeking information about a relative, or if you are looking for information about a particular match, you will find the CricketArchive site a useful starting point.
Many members of the Association have helped to compile this archive, and the information you are seeking may already be there.
Andrew Hignell, Secretary
---
ACS Sales – Important announcement
Members will be sorry to hear that the ACS Sales Officer, Neil Beck, is unwell. Following a stay in hospital, Neil has advised the committee that he is unable to continue in his role. All members will join with the committee in extending our best wishes to Neil and thanking him for his work as Sales Officer.
The committee are very grateful to Mick Pope for agreeing at short notice to step into the breach. All orders for publications should be submitted via Mick. Orders that have already been submitted to Neil Beck will be processed as soon as possible, but we ask members to bear with us if, in these unfortunate circumstances, there is a delay in despatching items.
Contact details for ACS Sales are now as follows:
Mick Pope
ACS Sales Officer
25 Airedale Avenue
Tickhill
Doncaster
South Yorkshire
DN11 9UH
Tel: 01302 745853
Email: sales@acscricket.com
You can also buy books through our online shop.
---
Cricket: A Weekly Record 1882-1914 now online
We are delighted to announce that the digitised version of Cricket: A Weekly Record of the Game, the magazine which ran from 1882 to 1914, is now available here on the ACS website. There is also a link to it in the left-hand sidebar.
As many of you know, Cricket reported the 'Golden Age' of the game in England and beyond in great detail, with scorecards not only for first-class matches but also for schools and clubs (who could pay for their scores to be inserted). It covered tours abroad and matches across the Empire (as it then was). All of this makes it a unique resource for cricket historians, and it is now available on this site in a fully searchable edition.
Your will need to register your email address in order to access the resource, but it will be free until 1 February, when it will become a subscription service; we will give details of how to subscribe nearer the time.
The ACS committee would like to thank Simon Sweetman and Peter Griffiths for all their dedicated work on this project, in the face of many unexpected difficulties.
---
ACS Online Cricket Records
The Association of Cricket Statisticians and Historians' Online Cricket Records Section covers first-class cricket, Test cricket, List A, Twenty20 and women's international cricket; it is currently being extended to cover all women's cricket.
It is open to anyone and is free to use; you no longer have to register to use this part of the site. Suggestions for improvements or corrections should be sent to records@acscricket.com
To read more, please click here, or use the Cricket Records link on the left-hand side of this page.
We acknowledge with thanks the support of CricketArchive.