Welcome to the ACS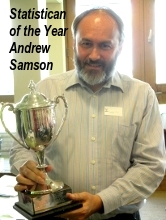 Welcome to the website of the Association of Cricket Statisticians and Historians. If you are looking for an answer to any question about cricket, seeking clarification about a particular record or feat, or searching for information on a team or a particular player, you have come to the right place, as the members of the Association have a wealth of knowledge and expertise about the game, its records and the feats of players and teams all over the world.
If you have a query, please send an e-mail to secretary@acscricket.com and the Secretary of the Association will point you in the right direction.
If you are undertaking family history and seeking information about a relative, or if you are looking for information about a particular match, you will find the CricketArchive site a useful starting point.
Many members of the Association have helped to compile this archive, and the information you are seeking may already be there.