Welcome to the ACS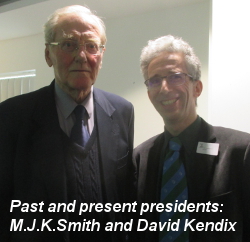 Welcome to the website of the Association of Cricket Statisticians and Historians. If you are looking for an answer to any question about cricket, seeking clarification about a particular record or feat, or searching for information on a team or a particular player, you have come to the right place, as the members of the Association have a wealth of knowledge and expertise about the game, its records and the feats of players and teams all over the world.
If you have a query, please send an e-mail to secretary@acscricket.com and the Secretary of the Association will point you in the right direction.
If you are undertaking family history and seeking information about a relative, or if you are looking for information about a particular match, you will find the CricketArchive site a useful starting point.
Many members of the Association have helped to compile this archive, and the information you are seeking may already be there.
Andrew Hignell, Secretary
---
ACS Sales: Important notice
The ACS Committee are pleased to announce that, effective 1 April 2017, one of our current business partners – City Press Leeds (CPL) – will take over the ACS Sales role from MP Press (Mick Pope). CPL will combine this new role with their existing responsibilities for storage and distribution of ACS publications, which they have undertaken since August 2016. By combining these two roles under one roof, the ACS hope to improve the service for members and customers besides increasing internal efficiency.
The new contact details for the ACS Sales representative are as follows:
Name: John Anderson
Telephone no: 0113 278 4286
Email address: sales@acscricket.com
Postal address:
ACS Sales
The City Press Leeds Ltd
St Ann's Mill
Commercial Road
Kirkstall
Leeds
LS5 3AE
The ACS Committee thank Mick Pope for his valued contribution as the interim ACS Sales representative and request members to support the newly announced arrangements by contacting John Anderson in the event of any sales-related queries.
CPL fully support the ACS process of selling their publications via the ACS Online Shop on the ACS website. In fact CPL have indicated that receiving and processing hard copy orders and cheques received by post will increase their workload and incur costs that they are obliged to pass on to the ACS.
For this reason the ACS have no alternative other than to pass on these costs to ACS members and customers in the form of a handling charge of £2 per order, which will be applied to manual orders effective 1 May 2017. Members and customers who use the ACS Online Shop will of course be exempt from this charge.
---
CricketArchive paywall: discount for ACS members
As you may know, the owners of CricketArchive have put its website behind a paywall, with a subscription of £4.99 a month or £49.99 a year.
In recognition of the long-standing ties between the ACS and CricketArchive, and the work many ACS members have contributed to website, members have been offered a 33% discount on the annual subscription, bringing it down to £33.49. CricketArchive have also promised to refund this discount to members who have paid the full subscription.
Instructions for obtaining the ACS discount may be found in the Members' Area, which is password protected. If you do not yet have the password, or have lost it, contact webmaster@acscricket.com; once we have confirmed you are on the current membership list, we will send you the password.
---
Summer Publications and Sale
Our new titles – Brian Sellers: Yorkshire Tyrant, Dorset Cricketers and First-Class Cricket Matches 1952 – are now available, along with earlier publications, in our online shop. Members should be receiving our fourth new title, A Guide to the Memorials of Cricketers, by post as it is this year's free book.
We are also running a sale of 25 12 older titles at prices running from £2 to £6. If these books are not sold by 31 July, we will be disposing of them.
---
Cricket: A Weekly Record 1882-1914 online
The digitised version of Cricket: A Weekly Record of the Game, the magazine which ran from 1882 to 1914, is available on the ACS website here. There is also a link to it in the left-hand sidebar.
---
ACS Online Cricket Records
The Association of Cricket Statisticians and Historians' Online Cricket Records Section covers first-class cricket, Test cricket, List A, Twenty20 and women's international cricket; it is being extended to cover all women's cricket. Suggestions for improvements or corrections should be sent to records@acscricket.com