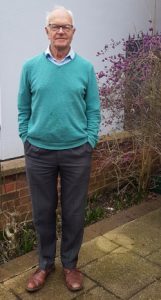 There's no 'order of precedence' between our two winners of the PWT Award. We're announcing the awards in strict alphabetical order. So who is going to come later in the alphabet than John Ward?
Well, those who are members of our online forum will have regularly come across the name of our second winner – Harry Watton. Surely no-one could be more deserving of an award in the name of a man who helped so many to learn more about cricket and cricketers than Harry who, for several years, has provided a wide range of help, to a wide range of members, on a wide range of topics both large and small.
Harry's continuing contribution to our ongoing project that looks into Major Feats in Minor Cricket has been nothing short of stupendous, both in identifying new 'feats' that qualify for the project and in researching and providing extra information on getting on for 200 of the known matches in which such feats have taken place.
In parallel with all this, Harry continues to research and respond on countless individual queries raised in our online forum, and to engage with many individual members to help their own more detailed research. Examples drawn just from the last couple of weeks include helping Willie Sugg with a query about CB Fry, David Pracy regarding FR Holmes, and Pete Griffiths regarding the 1979 ICC Trophy. And these are only examples, for I could give many, many more.
Harry has been an ACS member since 1974, but it's only more recently that he has been able to engage with the Association in the way that he now does so willingly and so prolifically. His working career was spent in the Local History & Archives department of the London Borough of Tower Hamlets, so the sort of research that he undertakes for so many of us – often newspaper-based, but not just at home but also involving trips to the British Library and elsewhere from his home in North London – is very much in his blood.
A Warwickshire supporter of long standing, he was also an enthusiastic player for many years, though he modestly admits, in his own words, to playing 'only at the most limited level of skill'; but that didn't diminish his sheer pleasure in playing the game. And like Charles Davis, distinguished winner of the Brooke-Lambert Trophy a few years ago, Harry is also an enthusiastic pianist. There must be something that makes music and cricket statistics go together especially well.
But it's for his contribution in helping so many others regarding the facts and figures of the game that we are pleased to show our gratitude and appreciation to Harry today.
Keith Walmsley